Camp Hapitok is back
March 11, 2015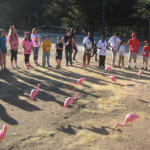 A week after canceling the 2015 edition of Camp Hapitok amid a dispute with county officials, organizers have announced that the sleep-away program for youth with speech disorders will take place this summer.
Last week, Friends of Hapitok announced that a dispute with the San Luis Obispo County Office of Education led to the cancellation of the camp's 45th year of operation. Camp organizers said Superintendent James Bresica informed them that the county would no longer provide funding and a facility for the program.
The county cited legal liability as the issue, and Bresica said the office of education would have to assume control of the camp if it were to keep funding the program. Friends of Hapitok President Marie Larsen said the county's demand left camp organizers in the precarious situation of raising $80,000 by summer.
But, Larsen said in a press release on Tuesday that Bresica decided to let Hapitok continue using the camp facilities free of charge. Bresica made the announcement at a county board of education meeting last Thursday.
"We were thrilled by the announcement," Larsen said. "We are still not out of the woods fiscally, however based on the outpouring of support from the community we feel we can raise the necessary funds in time for camp,"
Friends of Hapitok is committed to raising $55,000 for 2015 operations and seed money for the future, Larsen said. A 60-day crowdfunding campaign is currently underway.
Camp Hapitok is a four-week program for Central Coast elementary school students who have speech and language impairments. Campers have historically attended the program free of charge.