Homeless living in Santa Maria storage units
March 28, 2015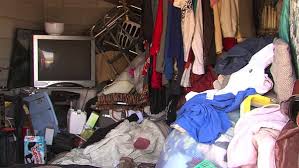 Homeless people have moved into multiple storage units in Santa Maria creating safety, theft and trespassing issues. [KEYT]
In some cases, the occupants rented the units before moving in. And while some of the tenants claim they have paid their rent, the owners of the storage facilities do not agree that they can live there.
Stephen French, the regional director for I Storage, told KEYT that the units are for storage only.
"Obviously, that's something we can't allow for safety reasons," French said. "If they're living there, then it means they're cooking in there, and it becomes a very dangerous situation."
In other cases, people have broken into units, stole many of the renter's belongings and then set up house.
"Someone urinated and defecated in my unit," Shannon Fletcher said of her I Storage rental. "They stole everything they could pawn or sell, and everything else was pretty much destroyed or ruined."
Don't miss links to breaking news stories, like CCN on Facebook.