Marx calls for rooftop party ban
March 9, 2015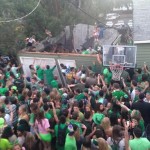 San Luis Obispo Mayor Jan Marx is calling for a city ban on rooftop parties, following a weekend incident in which a garage roof collapsed at an early St. Patrick's Day party. [Tribune]
At 6:21 a.m. Saturday, between 30 and 40 party goers were standing on top of a garage at a house party near Cal Poly. The roof collapsed, causing at least eight injuries, and online footage of the incident spread across the country.
Marx described the incident as mob behavior and an affront to the city. She told the Tribune it is sad that students act unintelligently and irresponsibly just months after they display the intelligence needed to get into Cal Poly.
An ordinance would theoretically put an end to "brewfing" — drinking on rooftops, Marx said. The ordinance would be a step toward regaining control in neighborhoods characterized by high student populations, she added.
The roof collapse occurred during a block party on Hathway Avenue, a prime location for Cal Poly partygoers. Thousands of people attended the early St. Patrick's Day celebration.
Cal Poly head baseball coach Larry Lee, and his brothers Mike and Terry Lee, own the property where the roof collapsed. Mike Lee said none of the tenants living at the house planned the party, and none of the affected families has threatened a lawsuit.