Speech disorder camp canceled after dispute with SLO County
March 5, 2015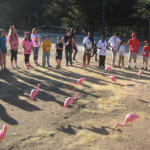 A summer camp for Central Coast children with speech and language disorders has cancelled its 45th year of operation, following a dispute with the San Luis Obispo County Office of Education over a legal issue, according to a news release issued by a volunteer group that runs the camp.
Camp Hapitok is a four-week program for speech-impaired elementary school students that has partnered with the county for at least the past 40 years. The county provides funding for the camp, as well as a sleep-away facility at Rancho El Chorro Park.
County Superintendent James Bresica told KCBX that he was planning on renewing the annual agreement with Friends of Hapitok, and he asked his legal counsel to review the document. But, the attorney informed Bresica that the county, rather than the volunteer group, must operate the camp if the county is to keep funding the program and providing a location.
Friends of Hapitok President Marie Larsen said in the press release that the county informed the volunteer group of the situation in January. That did not leave enough time to make other arrangements, Larsen said.
"We are devastated," Larsen said. "We have explored all avenues to find a solution, but we need an additional $80,000 that we can't raise in time for summer."
Campers are not currently charged to attend Hapitok. They are paired with teen volunteers, and they sleep four nights a week at the camp.