Steely Dan reels them in at Vina Robles
April 18, 2015
By COLIN JONES
It's another routine Tuesday night in mid-April, do you know where your intrepid, independent central coast music critic is?
I'll tell you where: alone and freezing my ass off at an outdoor show by 1970s stylists Steely Dan in the decidedly non-balmy vineyards of north county. Well, technically not alone, since it's a full house of around 3,000 other suckers in parkas, hoodies and down jackets strolling the grounds.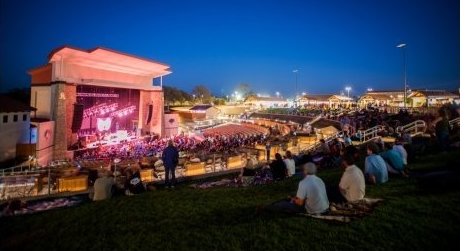 It had been nearly two years since I made the trek to the beautiful Vina Robles Amphitheatre east of Paso Robles but first in an 'official' capacity. The great thing about this venue is that it's both expansive and intimate, not an easy feat to pull off. I like it better than the Santa Barbara Bowl mostly because it has an open grassy area that allows you to stand, dance or just hang out and not feel like you're on Pluto.
But the Achilles heel of Vina Robles is absolutely the exiting traffic. There's one lane out of Dodge for hundreds of vehicles which means LA at rush hour. Halfway through the show, I'm debating whether to bolt at the encore or linger long, and I mean long, after it ends. There's no in between, should I stay or should I go? Story of my life.
Now, back to the music. Our boys Walter Becker and Donald Fagen are deservedly in the Rock & Roll Hall of Fame. As the driving force behind Steely Dan, they defined sarcastic, stoner prog/ jazz/funk like Led Zep defined classic hard rock. Two sides of the me decade musical spectrum.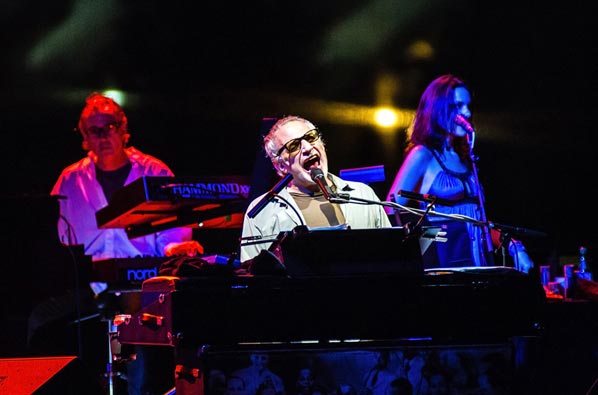 But these guys are studio rats, never known for lighting it up on stage (maybe backstage after the show). So I really had to psyche myself up for the 45-minute drive solo from SLO into the cool, rural night to check out their well-worn, laid back vibe.
Fagen went straight to the piano with Becker on guitar at the opposite side of the stage and ten of their closest, musical friends behind them. After a short but strange Cubano Chant intro, they jumped right into Black Cow. Becker gave a sort of witty soliloquy about Cuervo and Colombian during 'Hey Nineteen.' Dude, my friends laugh at me when I order Jose now. Then he shrewdly got the crowd pumped up by teasing about all the classics they were set to perform.
Steely Dan soon followed with a string of their hits like 'Black Friday, Aja, Babylon Sisters and Time Out of Mind' but as a chill wind arrived, their mojo faded by focusing on longer arrangements of weaker songs. Drum and sax solos are fine if you're light on material and need to fill in a few gaps. Sorry but the Becker/Fagen repertoire does not require filler.
So if you tell the eager crowd you're going to do all their favorites, it's probably a good idea to actually play them. Save the Cuban intro and a Nelson Riddle encore for your next gig at the Waldorf-Astoria. You have two dozen supremely beloved tunes so let's hear them: 'FM, Dirty Work, Do It Again, Midnite Cruiser, Josie, Deacon Blues, Haitian Divorce, Rikki, Cousin Dupree.' Sure, they played for nearly two hours but half of that was Becker introducing the 12-piece band.
By the end, patrons were mostly huddled together, mildly grooving but surprisingly some were standing and dancing. Not something you'd expect to see at a Steely Dan show. Anything to keep warm, I guess.
But things should thaw out in a few months when Tedeschi/Trucks, Little Big Town and Rob Thomas hit the Vina Robles stage. More of their concerts need to appeal to a younger audience and even older ones, many of whom actually like new music. Mumford, Florence and some Coachella-type bands would spice things up among the wine grapes.
All in all, it was an okay night. Hey, there are worse things than missing Taco Tuesday. The folks at Vina Robles do a nice job creating a mellow, comfortable concert vibe. They could drop the ticket prices a bit, maybe put up a few video screens next to the stage and offer some post-event drink specials for us patient souls with nowhere to go who decide to wait out the parking lot within the parking lot.
By the time I got home, I was ready for Wing Wednesday, and an Irish coffee.