Atascadero High School on lock down following shots fired
May 21, 2015
UPDATE, 12:20 p.m.: After more than two hours of heavy law enforcement presence, officials lifted the campus lock-down shortly before noon. Sources said a teacher and student reported hearing shots, but officers have been unable to verify this.
Atascadero High School is on lock down following shots fired at or near the campus Thursday morning.
At about 10 a.m., parents received an automated message saying students were under a precautionary lock down. Officials have told parent not to come to the campus.
One student sent a text to his mother to inform her that a S.W.A.T. team was on campus and a helicopter was circling above.
Students are said to be sheltering in place under their desks with the lights turned off. Multiple law enforcement agencies are assisting Atascadero Police.
CalCoastNews has reporters on route to the campus. Further information will be provided as it become available.
In the photos (from top) anxious parents await word from authorities about their high school students; a sheriff's S.W.A.T. officer was posted in school's parking lot; an officer with a trained police dog does a final check of the school area; relatives and parents text to learn more about unfolding events; heavily-armed officers prowl school perimeter;  the California Highway Patrol's helicopter circled the campus during the incident; a worried couple embraces; after two hours, students are led from the school.
(All photos by Richard Bastian of Atascadero. Contact him at newscruzer1@gmail.com or (805) 460-6533.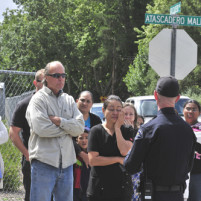 Get updates on breaking news, like CCN on Facebook.