Cal Poly sacks football player, may have been illegal procedure
May 2, 2015
EDITOR'S NOTE: A letter from Marvin Abou's landlord and the university's response are at the end of this story.
By CCN STAFF
The suspension of a 22-year-old Cal Poly student athlete within hours of his arrest on suspicion of felony DUI has raised questions about the fairness of the university's actions and the speed in which the administration acted. Cal Poly barred Marvin Abou, a scholarship student and offensive lineman with the football team, from entering campus grounds before a police report was available or charges were brought in court.
Abou was arrested following an accident on April 19. Abou was driving a 2004 Jeep Wrangler with two passengers on Loomis Street shortly after 1 a.m. He attempted to make a turn and the Jeep flipped over onto its side before hitting a parked car. When police tested his blood alcohol, it was over the legal limit.
Cal Poly administrators suspended Abou within hours of his arrest declaring that he posed a "substantial threat to the safety and well-being of his fellow students."
Abou and his front seat passenger received minor cuts to their foreheads. A SLO Police Department press release stated incorrectly that two of Abou's passengers were injured.
Teammates, who were with Abou in the Jeep, question the university's reaction to the accident and arrest. Offensive lineman Nick Enriques cut his head during the accident. Nevertheless, he believes the school is treating Abou more harshly than other students, he said.
Derek Sabo, an offensive lineman was in the back seat when the accident occurred. Sabo said he faces greater threats to his well being playing football for Cal Poly then he does from his teammate.
"I have had four concussions playing for Cal Poly," Sabo said. "We sacrifice our bodies and this is what they do to us. He has been taken off the team, the thing he loves, do they have to take his education away also. We are like cattle and they do not care if we are successful in life."
Sabo pointed to the difference in treatment with Cal Poly choosing to suspend Abou when students generally receive a warning letter after receiving their first DUI.
Students who have been charged with other serious crimes have been permitted to remain on campus and in classes by the Cal Poly administration.
Former fraternity president Gear McMillan recently pled no contest to felony drug sales. He was permitted to stay in school. Former running back Kristaan Ivory is facing multiple felony charges in connection with what police say was his participation in an armed robbery and he is currently attending classes. Several other students accused of sexually assaulting classmates or who have been arrested in connection with felony DUIs have also been permitted to continue attending classes while they go through the legal system.
The CSU system has a system, known as Executive Order 1098, in place to protect the rights of students. Before seeking a suspension of a student the school is required to fully investigate the charges. But the police report was not available when Abou was barred by Cal Poly.
Abou was given three days to select one of three options regarding temporary, permanent suspension from Cal Poly or a hearing. If he chose the hearing, Abou would not be able to attend classes during the process, the dean's office informed Abou.
Cal Poly and the rest of the CSU universities are required to inform students in writing about a conference to discuss proposed penalties. The notice of conference is required to have seven items attached  including "a factual description of the student's alleged conduct," the section of the student conduct code the student violated and a copy of Executive Order 1098, none of which were included in Abou's notice of conference.
But, Jay Thompson, a member of Cal Poly's public relations team, said Cal Poly had followed proper procedures when administrators suspended Abou.
"Cal Poly's process meets the highest standards of fundamental fairness and due process required by law," Thompson said. "The process conforms with Executive Order 1098, which governs all student disciplinary matters throughout the CSU system."
When he was a 3-year-old, Abou and his parents left Iraq, Abou said. The family is Christian and they feared for their safety.  After fleeing Iraq, the family moved to Jordan, then Greece and when Abou was 6,  the family moved to the United States. Abou and his parents are now American citizens.
Several hours after police arrested Abou, university officials barred him from entering the campus and gave him three days to elect to either be suspended for a year, withdraw from school or take it to a hearing, though he would not be able to attend classes during the process.
Abou's landlords, Mike and Michelle McMurtrey, sent a letter to Duane Rohrbacher , associate dean of the office of student rights and responsibilities, asking him to reconsider the decision it had made about Abou. In the letter the couple wrote about Abou's character and asked Rohrbacher to respond back to them.
"Marvin has been an exceptional tenant for the past two years," the McMurterys wrote in their letter.  "He has become the house "handyman" of sorts. Marvin is a mature, responsible, respectful young man. He is a loyal friend and a supportive team-mate."
Rohrbacker responded in an email telling the McMurtreys he did not take the time to read their letter, hoped they enjoyed San Luis Obispo and that he would not have time to meet with them to discuss Abou's future.
Duane Rohrbacker's email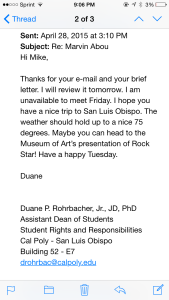 Mike and Michelle McMurtrey letter
RE: Marin Abou by CalCoastNews
Don't miss links to breaking news, like CCN on Facebook.