Democrats losing membership in SLO County
May 18, 2015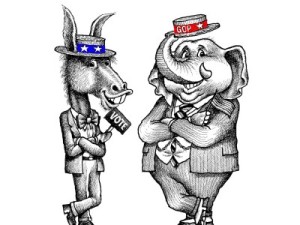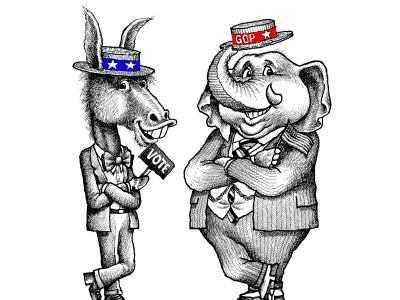 By JOSH FRIEDMAN and KAREN VELIE
As the Republican Party loses ground in California and risks losing statewide competitiveness, it is the Democratic Party that is suffering the greater erosion in San Luis Obispo County.
Since 2009, the Democratic Party has lost 7,394 voters, a decline of 13.1 percent in SLO County, according to statistics provided by the county clerk-recorder's office. In contrast, 3,531 county voters left the Republican party during that span, a decline of 5.6 percent.
As of February 2015, 59,047 county voters, or 39.7 percent, are registered Republican, and 48,857, or 32.8 percent of county voters, are registered Democrats.
Total voter registration in the county is 148,821. As a whole, voter registration dipped 4.9 percent from 2009 to 2015. But, decline to state party affiliation registrations increased by 9.5 percent from 29,048 county voters registered decline to state in 2009 to 31,815 this year.
In 2009, two of the five supervisor districts in the county were heavily Republican, one was largely Democratic and two were closely split between registered Republicans and Democrats.
After redistricting occurred in 2011, District 5, which had swung from party to party for decades, became largely Republican. A section of District 1 moved into District 5 during redistricting. Redistricting is the redrawing or adjusting of district lines, which occurs every 10 years to ensure each supervisor district has similar population numbers.
With new boundaries drawn and a steady flow of voters leaving the Democratic Party, SLO County's supervisor districts now lean right. Three districts are now heavily Republican, one is moderately Democratic and one district has a close split between Republicans and Democrats.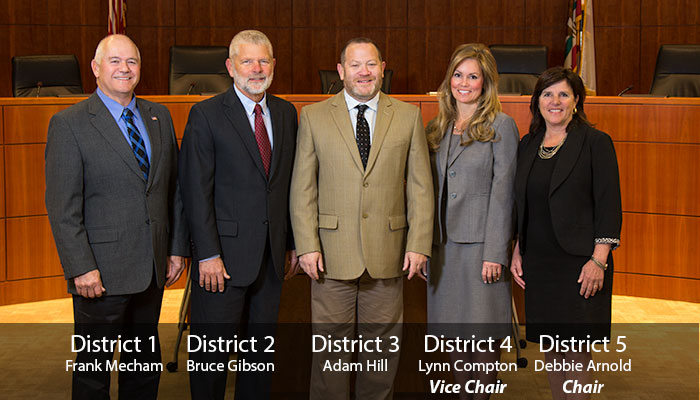 District 1, which runs inland from the Monterey County line to Templeton, currently has 5,910 more Republicans than Democrats. Republican Paso Robles Councilman John Hamon is currently running against Democratic Paso Robles Mayor Steve Martin in the race to replace Republican Supervisor Frank Mecham.
District 2 which runs along the coast from San Simeon to Los Osos and includes a portion of San Luis Obispo, has 2,166 more Democrats than Republicans. Democratic Supervisor Bruce Gibson is currently serving his third term in the District 2 seat, and he has twice won reelection with ease.
District 3, which includes Grover Beach, Pismo Beach and a portion of San Luis Obispo, has only 554 more Democrats than Republicans. Democratic Supervisor Adam Hill is running for reelection in District 3 and faces challenges from San Luis Obispo Councilman Dan Carpenter and former Grover Beach Mayor Debbie Peterson.
Carpenter is not affiliated with a political party, but his fiscally conservative stance on the San Luis Obispo council has appealed to Republicans. Peterson is a Democrat, but she opposed Democratic leaders in becoming a vocal critic of the San Luis Obispo County Air Pollution Control District's dust rule.
Conservative Republicans Lynn Compton and Debbie Arnold currently occupy the District 4 and 5 seats. District 4, which includes Nipomo, Arroyo Grande and Oceano has 3,026 more Republicans than Democrats; and District 5, which includes Atascadero and portions of Templeton and San Luis Obispo, has 3,974 more Republicans than Democrats.
Party leaders link the declining local Democratic Party registration to changes in local party strategies and public outreach.
San Luis Obispo County Republican Party Chairman John Peschong said that locally Republicans actively recruit new members while staying focused on their three primary issues – smaller more efficient government, low taxes, and protecting personal freedoms. At the same time, local Republican leaders avoid focusing on fringe topics and attacking their opponents.
"We have a continuing registration program and we stay away from fringe topics," Peschong said.
"I would never call anyone a racist like Adam Hill called Sam Blakeslee or say opponents are against poor people," Peschong added. "It turns people off. We are going to stay focused on our message."
Attorney Stew Jenkins, the former Vice-Chair and Secretary of the San Luis Obispo County Democratic Central Committee, said that local Democratic Party leaders have stopped working with local activist to increase membership and instead rely on "paid political 'con'sultants from Los Angeles and Sacramento" who have brought their "constructed campaigns focused on fears, negative advertising, and targeted mailings that go only to 'likely' Democratic voters."
"The current leadership of the San Luis Obispo County Democratic Central Committee demonstrates dependence on the paid political consultant class, rather than the consultants depending on the membership and real outreach of the Central Committee," Jenkins said. "There has been more emphasis on excluding Democrats not in lock-step with the exclusionary leadership. The efforts to bring together the kind of coalition that would win elections in our rural county have ceased."
San Luis Obispo County Democratic Party Chair Pat Harris did not respond to several requests for comment.
In Santa Barbara County, both major parties lost approximately 15 percent of registered voters between 2009 and 2015, while decline to state party affiliation voters increased by 33 percent. Santa Barbara County currently has 75,673 registered Democrats, 56,185 registered Republicans and 46,520 residents who are registered as decline to state party affiliation.
Statewide, Democrats hold a large lead over Republicans, and the gap has widened in recent years.
In October 2014, 43.3 percent of California voters were registered Democrat, Republicans accounted for 28.1 percent of state voters and 23.3 percent of California voters selected the decline to state category.
The percentage of California voters registered Democratic has remained relatively stable over the past decade. But, Republican registration dropped from 34.3 percent in 2006 to 28.1 percent last year.
Even so, the majority of California counties remain Republican-leaning, but the gap is closing. In 2006, 35 counties leaned Republican while 23 leaned Democrat. But, as of October 2014, Republicans controlled 31 counties, and Democrats controlled 27.
For the past few years, Democrats have flirted with having a super-majority in the Legislature, and they achieved it temporarily.
National voter registration trends are similar to those in California, according to data compiled by the Pew Research Center. Between 2006 and 2014, Democratic registration remained relatively constant at about 32 percent while the Republican party dropped from 28 percent in 2006 to 23 percent in 2014.
Don't miss links to breaking news stories, like CCN on Facebook.