Man arrested for burglarizing SLO bicycle shop
May 31, 2015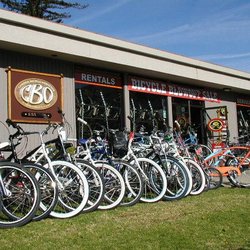 A California Highway Patrol officer's quick response to a burglary alarm at the Cambria Bicycle Outfitters in San Luis Obispo led to the Sunday morning arrest of a Fresno man who had stolen over $40,000 in merchandise.
Shortly after 4 a.m., the alarm sounded at the shop located on the 1400 block of Monterey Street and a report of the alarm was sent to the SLO Communications Center. The CHP officer heard the alarm and spotted a white van leaving bike shop's parking lot at a high rate of speed.
The officer attempted to stop the van. However, Earvwin McCullar, 49, of Fresno drove continued driving before he crashed the van at the intersection of Casa Street and Murray Avenue.
McCullar's passenger, an unidentified black male, fled on foot. Inside the van, officers discovered six high-end bicycles and burglary tools. In addition, a search of the van showed it had been stolen from the Sacramento area.
Officers booked McCullar into the San Luis Obispo County Jail on charges of car theft, burglary and possession of burglary tools. His bail is set at $50,000.