SLO County Supervisors should vote based on facts, not politics
May 16, 2015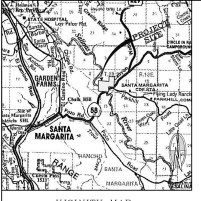 Open letter to the San Luis Obispo Board of Supervisors by Butch Pope
Regarding the San Luis Obispo County Board of Supervisors meeting on the Las Pilitas Quarry, it was good to see that some of our supervisors actually read and came prepared to the meeting with facts and figures rather than a predetermined speech based on politics versus facts.
We all have a right to our opinions of whether or not we would like to see the quarry go forward, but the supervisors should have been bound by factual content. Some of the facts and figures that were presented to all of you by one of your board members were ignored by some as if it did not happen. Questions to the heart of the
projects denial were asked and answered … ignored by some.
There could have been some explanation as to why you could not accept these facts or at least a rebuttal to the accuracy. We, as a community, are entitled to that by our elected officials. It was sad to see that our county government has become so political.
I have been a member of the Santa Margarita Advisory Board (SMACC) for some time now. I attend the meetings regularly and get involved in special projects as in this one reviewing the EIR. I was on the committee to review the project.
It was my understanding that our input to the supervisors was valuable and to be taken into consideration, as we in the community have put the time and effort into reviewing projects as this one and many others.
Unfortunately three of the supervisors chose not to comment or take into consideration the time and effort put in by the SMAAC board as their decision did not reflect or mention any consideration for their time and vote to support the project. It was as if saying your time and effort does not count because I know better than you without even an explanation.
Not because of the no vote on the quarry, but due to the fact that our time and efforts were not even considered in the decision making, I have serious reservations about continuing to dedicate my time and resources in being a SMAAC member.
Butch Pope is a lifelong resident of San Luis Obispo County who has lived the past nine years in Santa Margarita. Pope has served on the Santa Margarita Advisory Board for five years.
Don't miss local opinion, like CCN on Facebook.