SLO County's disappearing budget surplus
May 18, 2015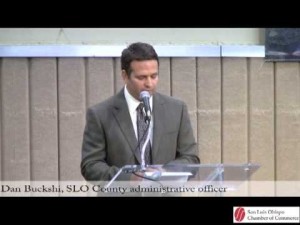 By JOSH FRIEDMAN
Less than six months after the San Luis Obispo County Board of Supervisors awarded extra pay to all employees after staff claimed a $30 million budget surplus, the county is running in a deficit.
The county is currently facing a budget gap of nearly $9 million, due largely to mishandling of employee pay, according to a staff report for Tuesday's board of supervisors meeting. As a result, the county will likely cut some services.
In December, the board unanimously approved one-time payments of $1,000 to all full-time employees and prorated payments to part-time employees. The county described the payments as offsets to rising health care costs. In all, the payments total more than $2.4 million.
On Tuesday, the board of supervisors is scheduled to conduct its third quarter budget review for the 2014-2015 fiscal year. A county staff report for the budget hearing states that approximately $8.8 million in unbudgeted expenses will come due by year's end.
Of the $8.8 million in unforeseen expenses, approximately $7.4 million is attributed to the one-time payments and prevailing wage adjustments for county employees.
County administrators say they plan to account for $7.4 million of the unbudgeted expenses through expenditure savings. That entails leaving some county staff positions vacant and reducing services and supplies.
Unanticipated revenue will also help make up the difference. The county expects to raise $878,513 in unanticipated revenue, according to the staff report.
Additionally, staff is recommending that the board transfer $494,295 from general fund contingencies to offset the remaining unbudgeted expenses. Doing so requires at least a four-fifths vote, though.
Before the board approved the one-time payments for employees, Human Resources Director Tami Douglas-Schatz said county departments had built up savings which led to the $30 million budget surplus. Those monies could be passed to employees, she said.
Critics questioned the use of the funds, as well as the legality of making one-time payments to county employees. The California Constitution prohibits governments from dispersing money if there is no accompanying public benefit.
It is forbidden for state, county or city governments to gift public funds, except to orphans, abandoned children, the blind, the handicapped, families with a disabled unemployable father and to institutions serving them, according to Article XVI, Section 6 of the California Constitution.
A week after awarding county employees raises, the supervisors granted themselves salary increases of about $4,000 in yearly pay. The board approved its own raises on a 4-1 vote, with Supervisor Debbie Arnold dissenting.
The vote on the raises for employees and the vote on the raises for board members took place prior to Supervisor Lynn Compton taking office.