SLO to ration water if residents don't cut use
May 29, 2015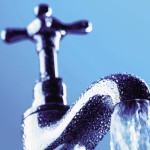 The city of San Luis Obispo plans to institute water rationing if residents do not cut their water use by more than 10 percent over the next few months. [Tribune]
Individual residents of San Luis Obispo currently use about 72 gallons of water a day, utilities manager Ron Munds said at city forum Thursday. All residents must reduce their water usage by about 10 gallons a day in order for the city to keep pace with a state-mandated 12 percent reduction in water use from 2013 levels.
If city water users do not reach the target by around August, officials plan to call on the city council to implement rationing. If the council were to declare a stage 2 drought, residents would have to cut their usage to 60 gallons a day.
A stage 3 drought declaration would require individuals to reduce their water use to 50 gallons per day.
Including commercial customers, per capita water use in San Luis Obispo is currently 108 gallons a day. That figure must drop to 101 gallons by August for the city to keep pace with its state-mandated target.
As of April, the city only has access to about 3.5 years worth of water.
On Tuesday, the city council will discuss a drought response strategy. As part of the drought strategy, staff is recommending that the city reduce the amount of water allotted for future developments.