Woman grabs a pitchfork, goes on offensive in Goleta
May 4, 2015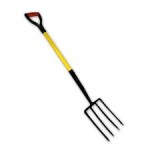 A female intruder stole a pitchfork Sunday afternoon and threatened multiple Goleta residents, stabbing one of them. [KEYT]
The pitchfork thief stabbed a woman in the arm and stomach. She also allegedly assaulted a police officer.
The crime spree began around 2:20 p.m. in the 5800 block of Old Town Goleta, according to the Santa Barbara County Sheriff's Office. After a man heard something on his roof, he went outside and saw a woman had grabbed a pitchfork from his yard and was holding it in a threatening manner toward him.
The man ran back inside the house and locked the door. The woman then went to another house on the street and entered the residence.
There, the intruder grabbed a woman's cell phone and used her other hand to wave the pitchfork in a threatening manner.
The stabbing occurred a little later. The female victim did not need to go to the hospital.
Sheriff's deputies found the suspect at a Goleta 7-11 and arrested her. She is charged with assault with a deadly weapon, attempted homicide, burglary and assault on a peace officer.