Cuesta College analyst arrested
June 18, 2015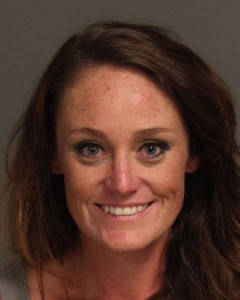 By KAREN VELIE
UPDATE: Statement from Cuesta College, ""Cuesta College follows Education Code when hiring. There is a question in the official application that asks specifically about criminal offenses. Controlled substances and sex crimes are the only two things that a college legally cannot hire for. Cuesta College is made aware of any criminal convictions that are reported by the Department of Justice and any that the individual discloses during the application process."
ORIGINAL: Cuesta College Police officers arrested a human resources analyst Wednesday evening on a felony charge of unlawfully accessing data.
Shortly before 9 p.m., officers arrested Lacey Fowler and booked her into the San Luis Obispo County Jail. By Thursday morning, both Lacey Fowler and her husband Chad Fowler had been released on bail.
On May 31, Lacey Fowler, who had been out on sick leave for several weeks, allegedly breached the campus data system remotely and then emailed employee names, home addresses, email addresses, phone numbers and Social Security numbers to her private email account.
Lacey Fowler has a long criminal history that includes a 2005 alcohol related reckless driving, an Aug. 2006 drunk driving, a Nov. 2006 DUI, a 2007 drug paraphernalia conviction and an arrest in 2007 for felony burglary and forgery.
In 2008, Cuesta College hired Lacey Fowler as a temporary employee.
In Nov. 2011, the 2007 felony charges were reduced to misdemeanors and then expunged. By expunging records the charges cannot be held against you, but it does not stop the release of information to public agencies.
In 2013, Cuesta College promoted Lacey Fowler to a full time employee position.
Cuesta College officials have not responded to questions about background checks and if employee applications include a question about felony convictions.
However, several campus staffers said that the application does ask if the employee has been charged with a felony and background checks are done before a person is hired or given a promotion.
Sources inside the college are saying Lacey Fowler should never have been hired.
On Thursday, officials at Cuesta College refused to answer any questions about background checks, applications for employment or Lacey Fowler instead either saying they would call back or transferring a handful of calls to random departments.
On June 11, Cuesta College Police officers and SLO District Attorney investigators searched the Paso Robles home of Lacey and Chad Fowler in response to the data breach and discovered more than four pounds of methamphetamine and heroin. The 30 acre property is owned by retired sheriff deputy Micheal Wasley, a relative of Lacey Fowler.
Campus police then called in SLO County Sheriff's narcotics investigators to assist. Sheriff deputies arrested Chad Fowler on charges of possession of heroin for sale and possession of methamphetamine for sale, with an enhancement for possessing more than one kilo of methamphetamine.
Don't miss links to breaking news stories, like CCN on Facebook.