Trailer overturns on Highway 101 near Avila Beach
June 18, 2015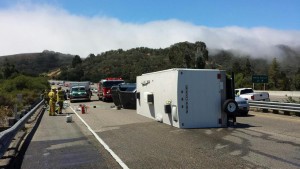 A truck towing a white trailer overturned and then crashed into another truck on Highway 101 near Avila Beach Drive Thursday morning.
Cal Fire tweeted a photo of the rollover, which shows traffic backed up on Northbound Highway 101. There are significant delays in the area, according to Cal Fire
KSBY has reported the accident happened around 10:55 a.m., and it only caused minor injuries.