Man arrested for resisting arrest on Goleta video
June 13, 2015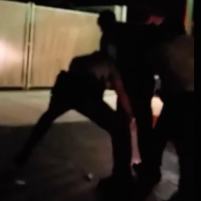 A video purportedly showing police brutality in Goleta touches on a second policing trend that is causing concern among some citizens.
Early Thursday morning, Santa Barbara County sheriff's deputies arrested 22-year-old Keenen Johnson in a motel parking lot. Deputies pursued Johnson initially as a burglary suspect and then as a possibly armed man, but they ended up arresting him for resisting arrest. [KEYT]
Johnson's wife, Jennifer Johnson, recorded video of the arrest, during which deputies wrestled Keenen Johnson to the ground. Jennifer Johnson published the video on Youtube argues that it shows police brutality.
As with similar videos that have been released in recent months, there also may be a racial undertone. Johnson is black, and it appears the officers are white.
Around 3 a.m., the deputies responded to a report of a burglary in progress at the Extended Stay motel in Goleta. The caller said someone was going in and out of a hotel window near a camper truck.
When deputies arrived, they saw Johnson on top of the RV and a motel room window that appeared to have been tampered with or broken into. The deputies also saw that Johnson had a sheath that may have been covering a weapon, sheriff's spokeswoman Kelly Hoover said.
Johnson's wife said her husband was patching up a leak in the RV roof at the time. She also said they had a room in the motel and were having beers by an open window. The couple was sharing the room with coworkers from a motel renovation team, she said.
The deputies grabbed Johnson and said they were checking him for weapons. They then wrestled him and slammed him to the ground, the video shows.
During the encounter, Johnson was saying he did nothing wrong and the deputies were breaking the law. His wife screamed "stop" while filming the incident.
"You don't legally get to check every single person for no reason," she said.
The deputies found no weapons. They booked Johnson into jail on charges of felony resisting arrest, KEYT reports.
In recent years, it has become increasingly common for police to arrest individuals solely for charges relating to resisting arrest.