Neverland ranch could be yours for $100 million
June 2, 2015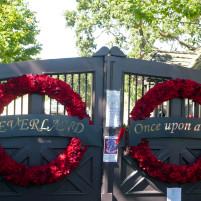 The longtime home of deceased pop star Michael Jackson is on the market and priced at $100 million. [LA Times]
Formerly known as Neverland Ranch, the 2,700-acre property in Northern Santa Barbara County has a 12,000 square foot Normandy style mansion with six bedrooms and staff quarters. The ranch also includes a 50-seat theater, two guesthouses, hiking trails, swimming pool and sports courts.
The property is located in the community of Los Olivos in the Santa Ynez Valley. It still has the floral clock, railroad tracks and train station that were installed while Jackson owned the ranch.
Jackson's amusement park rides and circus animal are now gone. So is Bubbles the chimp, his longtime pet.
Jackson purchased the property for $19.5 million in the late 1980s. Private equity firm Colony Capital bought the ranch about six years ago for $22.5 million.
The singer was defaulting on the loan at the time.
Prior to Jackson's death, the ranch became the scene of child molestation investigations. Jackson was charged, tried and acquitted in 2005.
Listing agents say they will only show the property to prospective buyers who are super-qualified and have a definite interest in purchasing the ranch.