PG&E contractor trashes garden
June 18, 2015
OPINION By PEG PINARD
A few days ago I received a call from Manuel, from Davey Tree Co., saying that they would be trimming the palm trees away from the power lines on Broad Street. This was not unusual as they had done this before. From past experience we have witnessed how PG$E interprets their  legal  "right" to  "clear" to mean destroying whatever they want in the name of 'clearing the area around the power lines.
When they did this a while ago, they also destroyed a number of owl's nests. The loss of those natural predators resulted in a huge spike in the rat population in the neighborhood. But I digress…
When I got Davey's call I was prepared to have the trees butchered again. I replied, "Thanks for letting me know, but please be careful not to get the debris in my garden." He assured me they would be careful.
Well, this is what they did. Davey forgot to set out the "do not park" barricades on the street necessary for parking their vehicles – which they have always done before. Being close to downtown, on-street parking fills up early with downtown employees.
When Davey came to "trim" the trees, instead of realizing their mistake in forgetting to set our their 'no parking' barricades, and coming back another day, they made a decision to double-park their vehicle in the middle of Broad Street, leaning their bucket out over the parked cars (surely this is not in accord with city regulations and safety concerns).
They then proceeded to throw all the very heavy palm fronds and debris into my yard. If you've ever lifted one of these fronds you know how heavy they are and that they are not going to land in a garden without doing quite a bit of damage.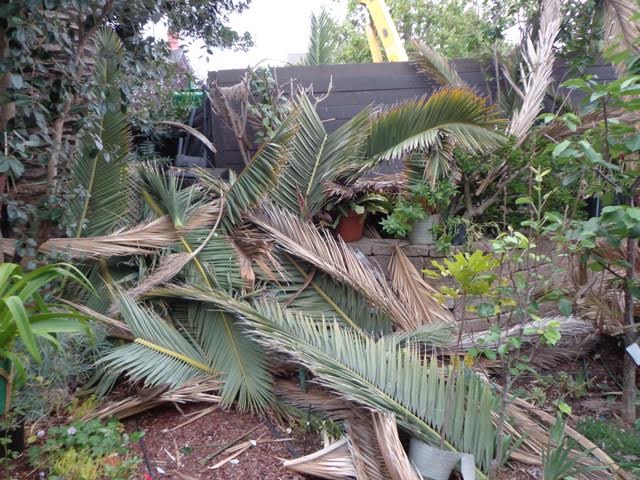 I was shocked to see the Davey employee deliberately hurling the fronds onto my property. I ran out to tell him to stop and he refused! I had to call the police in order to get him to stop and, even then, he didn't do so until the officer actually arrived.
While there was lots of damage to my fruit trees, and other plants in my garden, I think the maliciousness with which the Davey company acted was beyond comprehension. It was pretty obvious that they figured that it would be easier to mouth the words "sorry" rather than act responsibly and respectfully.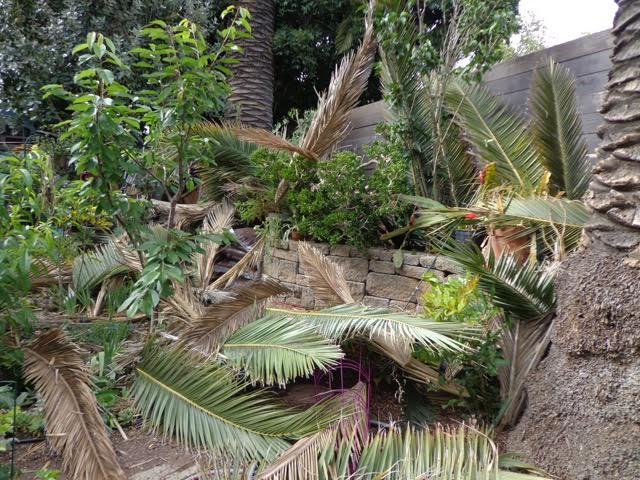 The solution to not having done the proper preparation was so simple, just put up the signs and come back tomorrow – that the willful maliciousness of their decision is particularly reprehensible. For any understanding gardeners out there, know that I had just spent weeks doing my garden "spring cleaning" and tending to the plants…and, at my age, it isn't so easy to do anymore.
It took them nearly six hours to finish getting those fronds out of there. Besides this being an incredibly upsetting situation, I then had to hire a gardener to try and salvage the damage to the landscape.
I can't help but reflect on what this says about Davey's corporate mentality and bottom-line greed. I'm sure they wouldn't want this to happen to their home, or have their families treated this way…but, somehow they determined this was alright to do to someone else.
The whole fiasco was absolutely destructive and so utterly unnecessary.
Over 30 years ago, the city realized this conflict of power lines with mature trees was going to be a problem, and we started an under-ground utility program. Funds were even set aside for its implementation. The under-grounding program was very specific in that it designated the program would start with the most impacted areas…basically starting with the older neighborhoods with the mature trees. New developments would be required to underground their utilities as a condition of development. What ever happened to the program and the money?
By not following-through, the city ensured that incident's like the Graduate's palm trees fiasco and this kind of damage and disrespectful treatment to city residents would likely occur.
Peg Pinard is a former San Luis Obispo County supervisor and mayor of San Luis Obispo.
Get links to local opinions, like CCN on Facebook.