Who's really in charge in Oceano?
June 17, 2015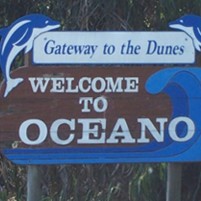 OPINION By BEATRICE SPENCER
It's interesting what you learn when you begin to follow things more closely as I have the South San Luis Obispo County Sanitation District, and the Five Cities Fire Authority since the election.
I used to subscribe to the theory of the Oceano Community Services District always being the so called underdog. Now I find myself questioning the priorities of Oceano district board for several reasons.
When the Oceano district hired Paavo Ogren at $196,000 annual salary to oversee six employees, I bought the line they were selling; he was taking two positions in the organization and somehow this justified the pay for two people. After watching and attending meetings for a time, I strongly believe the tail is now wagging the dog.
Currently, Ogren has dug in his heels, apparently with the board's blessing, on a second $11,000 billing charge to the sanitation district, and the Oceano board is buying in on Paavo's unreasonable demands. One look at Oceano's proposed budget makes it easy to understand why. Without this additional $11,000 from the sanitation district, Oceano's budget is underwater.
Could Paavo's upcoming $5,000 raise in July also be an issue?
The sanitation district board approved and subsequently paid the first invoice less than two months ago. Upon receipt of another invoice so closely on the heels of the first, the two new sanitation district board members have merely asked for an accounting of the latest invoice.
But, rather than substantiating the charges, Ogren has opted to send them a delinquency notice, and has stated that Oceano will no longer collect if the bill is not paid by July 1.
Oceano contributes 17 percent of the sanitation district's revenue, or approximately $500,000, Arroyo Grande 50 percent or $1.5 million, and Grover Beach 33 percent at approximately $1million.
Perhaps it is time to lift the burden of sanitation district collections from Oceano and place them instead with the county tax collector. This would eliminate Paavo's $22,000 invoice to the sanitation district, which seems extremely high when compared to the $12,000 annual invoice from Arroyo Grande.
In another effort to generate revenue, Ogren has also asked the Oceano district board to request that the Five Cities Fire Authority go back in history and recalculate five years of the agencies contributions to see if any inequities exist. What will the Oceano district board do if Oceano is forced to return the $15,000 yearly rent they've been charging fire authority for the last five years to use the fire station that was built with fire funds? Oceano's budget doesn't indicate $75,000 is available to repay the fire authority.
Currently, Oceano is the only entity charging the fire authority rent.
In addition, Ogren appears to have stirred the water pot. The cities of Pismo Beach, Arroyo Grande and Grover Beach have been working in cooperation with Oceano as the Northern Cities Management Area, involved in the Santa Maria Valley groundwater litigation. In recent months, Arroyo Grande and Grover Beach have both severed ties with the water attorney that still represents Oceano. Arroyo Grande has now joined Pismo Beach, engaging their attorney specializing in water, to represent Arroyo Grande's water interests.
In the meantime, Ogren has applied for grants for projects the Oceano district could better afford for on their own if they weren't paying so much for Ogren's services. Ogren has convinced his board to "partner" with Pismo Beach on their recycled water project so Pismo Beach can access Oceano's disadvantaged community status for a project that doesn't benefit Oceano.
The demographic makeup of Oceano is being used to help Pismo, while Oceano's own water system is leaking as much as 134 acre feet per year. This expensive and valuable resource, State, Lopez and ground water leaks into the ground where it finds its way to Arroyo Grande Creek and out to the ocean. Oceano does not need more water, Oceano should better protect the water they already have.
All the uncertainty Ogren has created and the Oceano district board members have allowed to take place is troubling at best. Until the Oceano district board acts in accordance with their fiduciary responsibilities, they will be subject to further scrutiny from their neighbors. Oceano's financial decisions impact their neighbors who do business with them.
The sanitation district board meets Wednesday, June 17, 6PM at the Arroyo Grande council chambers.
Don't miss links to local opinions, like CCN on Facebook.