House catches fire near Cal Poly
June 17, 2015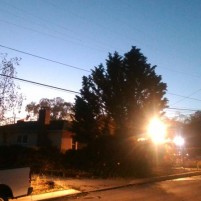 A fire broke out Monday evening at a home one block away from the entrance to Cal Poly.
San Luis Obispo firefighters and Cal Fire responded to and extinguished the house fire at the corner of Slack Street and Graves Avenue. No one suffered injuries in the blaze, and the cause of the fire is not yet known, according to a SLO Fire Department tweet.
The Tribune reports that the fire displaced two Cal Poly graduates who were not home at the time of the blaze. One of the residents, Diego Vazila, told the Tribune he was watching the NBA finals basketball game at a friend's house when he received a call informing him his house was on fire.
Vazila said a third resident of the house had already gone home for the summer. The fire department is connecting the two displaced residents with the Red Cross, according to the Tribune story.