Are California cheerleaders denied minimum wage?
July 1, 2015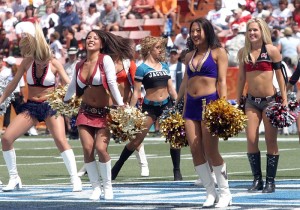 A bill awaiting California Governor Jerry Brown's signature would require professional sports teams based in the state to pay cheerleaders at least minimum wage, as well as overtime and sick leave. [ABC News]
Cheerleaders have filed lawsuits against several NFL teams, including the Oakland Raiders, alleging the football franchises do not consider them employees and pay them what amounts to less than minimum wage. The California bill attempting to reverse that trend passed the state Senate on Monday.
A similar bill was introduced in the New York legislature this year, but no comparable law exists in the county. Assemblywoman Lorena Gonzalez (D-San Diego) introduced the bill in the California Legislature.
"Everyone who works hard to provide a great game-day experience deserves the same basic level of dignity and respect on the job, starting with simply being paid for their work," said Assemblywoman Lorena Gonzalez.
Attorney Sharon Vinick reached a $1.25 million settlement with the Raiders last year over a lawsuit she filed on behalf of dozens of Raiderettes who worked for the team from 2010 to 2013. Vinick said the Raiders paid cheerleaders $125 per home game, or $1,250 per season.
The contract included hours of unpaid rehearsals and charity and commercial appearances. That translated to less than $5 an hour, she said.
The Raiders classified the cheerleaders as independent contractors and argued that the cheerleaders were receiving exposure that could open up opportunities in modelling or other fields. The Raiders stated in court documents that NFL arbitration should handle the lawsuit.