Board member should apologize for cursing
August 10, 2015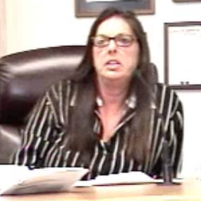 OPINION By PATTY WELSH
On July 15, I attended the meeting of the South San Luis Obispo County Sanitation District Board of Directors that turned into a circus act of sorts. Jeff Edwards went to the podium during public comment and started to speak when Oceano Community Services District Board President, Mary Lucey came unglued. She stood up and started yelling at Mr. Edwards and then stormed out of the chambers.
The comment that upset her was when Mr. Edwards claimed, the sanitation district administrator, Rick Sweet, had "gone off the reservation." Lucey returned to the dais and was allowed to make a statement, "Racism comes in many different ways, and I'm Blackfoot Indian and I was born in Montana and I was born on a reservation and my grandmother was raised in an orphanage." She went on to say, "So when someone says to me 'you've wandered off the reservation' it is the most bigoted comment you can make to a Native American and it's insulting and what's really insulting is when you do it in front of a room full of adults and they allow that type of bigotry to continue, so Mr. Edwards, you're bigot."
I was one of the adults in the room and I had no way of knowing Ms. Lucey is of Native American decent, so to include me was offensive. Quite frankly, I don't know what she expected any of us to do.
What I found most offensive, and unprofessional, was later when the board went to closed session Ms. Lucey walked by Mr. Edwards and proceeded to cuss him out. She did so loud enough so that everyone could hear her. I was offended by her words and her actions and was actually embarrassed for her.
It appears Mr. Edwards and Ms. Lucey have some history between them, if she had something to say to him, she should have asked him to come outside or go into another room to discuss the issue. But, don't subject me to your foul mouthed ways Ms. Lucey, show me some respect as a resident of the district and as someone who does not curse at you.
At the last sanitation district meeting, I went to the podium and asked Ms. Lucey for an apology for using such language. She chose to sit there with a smirk on her face. I waited a good long minute and nothing was forth coming from her.
To use offensive language should not be okay with anyone elected her. That might be how you run your meetings in Oceano, but this was not about Oceano and this was not your meeting.
I am still waiting for an apology Ms. Lucey.
Patty Welsh is a long time Arroyo Grande resident and a member of the Arroyo Grande Parks and Recreation Commission.