Car slams into Atascadero 7-Eleven
August 13, 2015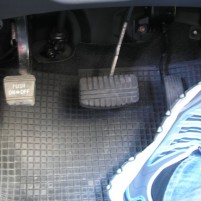 An Atascadero 7-Eleven lost some of its structural integrity Wednesday after a driver improperly parked his car. [KSBY]
An older man was pulling into the 7-11 parking lot on the corner of El Camino Real and Curbaril Avenue around 11:25 a.m. His foot slipped off the brake and hit the gas, Atascadero police say.
The car slammed into the 7-Eleven building, leaving a hole in the lower part of the exterior wall near the entrance. Police say the building had significant structural damage, but the vehicle only sustained minor damage.
No one suffered any injuries in the accident.
The city building inspector came out to the scene and recommended that a structural engineer assess the damage.