County to further study desal pipeline
August 22, 2015
By John Lindt, publisher of Sierra2theSea
San Luis Obispo County supervisors are expected to approve a staff plan to further study connecting the existing desalination plant at Diablo Canyon nuclear power plant to Los Osos as well as Lopez Lake in an effort to stem seawater intrusion in the midst of the drought. The agenda item for Aug. 25 directs "staff to engage potential stakeholders in the Santa Maria and Los Osos Groundwater Basins regarding drought relief opportunities."
In their desalination opportunities summary report to be delivered to the SLO County Board of Supervisors, county staff described "near term opportunities" utilizing existing unused capacity at the Diablo Canyon desal water plant to make available potable water to Los Osos though a new pipeline and/or the northern Santa Maria groundwater district likely through a pipeline to Lopez Lake. The study says the plant could connect to the Avila Beach with a seven-mile pipeline and/or Los Osos with an 11-mile "somewhat more complex"pipeline.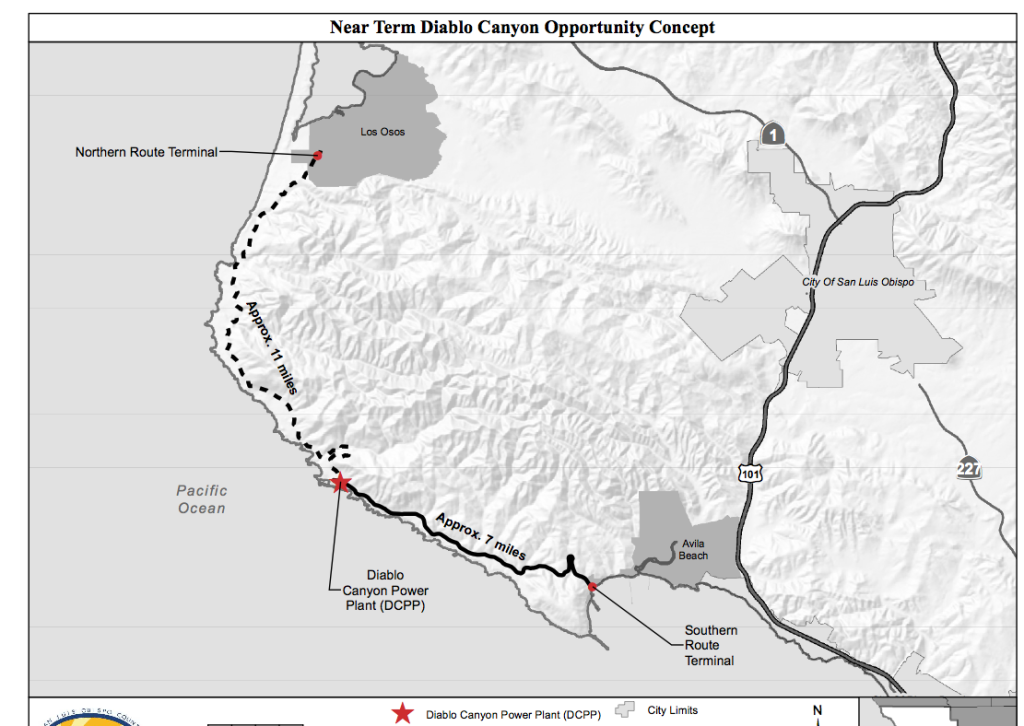 As to benefits for Los Osos, the report says that "under current conditions, replacing 460 acre feet of water of lower aquifer production in the Western Area with an alternative potable water source would halt seawater intrusion into the lower aquifer, according to the updated basin plan for the Los Osos Groundwater Basin."
By contrast, the Santa Maria groundwater basin requires 1026 acre feet of water to offset urban pumping to mitigate against seawater intrusion there.
The desalination plant can provide 500 acre feet of water at current capacity and 1000 acre feet of water at full capacity says the study.
The county should move on an "emergency" basis to work with potential partners on a financial plan and do the preliminary engineering to garner grants and start regulatory approval, the report sayss.
PG&E is working to provide cost estimates to the county.
County Supervisor Adam Hill says it is likely both watersheds might get relief in a phased program that could start by utilizing an existing pipeline to Lopez Lake.
As for Los Osos "we've already started talking to purveyors there about the possibilities," Hill said. "Both watersheds  "are on the critical list."
Nevertheless, still to be sorted out is how much the pipelines will cost and who will pay what share?
"Long term, we could see water from the desal plant injected into wells to push back the seawater in Los Osos," Hill said. "Since PG&E uses just 35 percent of the capacity at the desal plant that is "already operating and fully permitted – it makes sense to move on this now."
Hill notes that PG&E is more than cooperative – "even enthusiastic" saying the utility may want to get into the water business in the future.