Cuesta Fire scorches 300 acres
August 17, 2015
UPDATE 7 p.m.: The Cuesta Fire has burned 500 acres and prompted the evacuation of the town of Santa Margarita south of the railroad tracks. Approximately 500 people in 350 homes were evacuated Monday afternoon. No structures have been damaged or destroyed.
The fire is 10 percent contained.
UPDATE 4 p.m.: The Cuesta Fire, which started Sunday afternoon, has scorched 300 acres on the Cuesta Grade south of Santa Margarita. It is currently 5 percent contained.
Flames from the blaze jumped over the east line and started several spot fires.In parts of Santa Margarita, the sun is partially blocked by brown clouds and the sky is raining ash. There have not been any evacuations.
Fire crews are headed to the Miller Flats area to battle the blaze from a different direction. There are currently 250 firefighters on the incident, but calls for assistance have been sent out.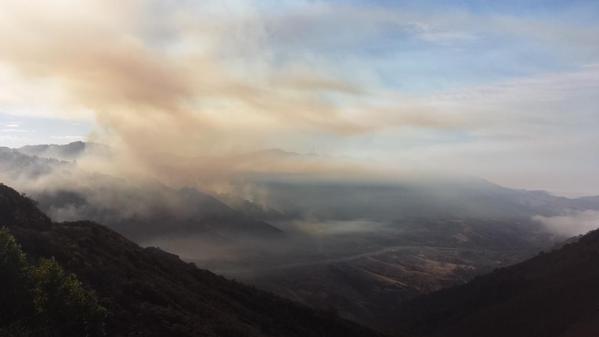 UPDATE 11 a.m.: Fire investigators believe one vehicle likely caused the 100 acre Grade Fire south of Buellton, the Cuesta Fire and the Cholame Fire off of Highway 41 near Shandon, said Bennet Milloy, a Cal Fire public information officer.
Firefighters have made control lines to the north which should keep the fire from reaching homes in Santa Margarita. More than 250 firefighters have limited the fire to a slow spread primarily to the east and to the south.
"They are doing good work," Milloy said. "It is a lot of steep and rugged terrain."
UPDATE 8:30 a.m.: Firefighters from multiple agencies were briefed on the Cuesta Fire at Cuesta Park.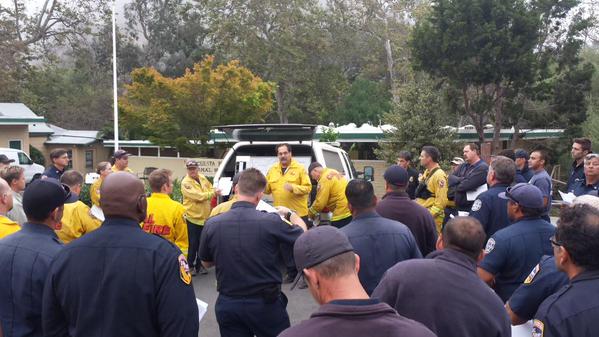 UPDATE 5:30 a.m.: The Cuesta Fire has burned approximately 100 acres and remains 10 percent contained. Firefighters are asking motorists to avoid northbound Highway 101 if possible.
UPDATE 1 a.m.: The Grade Fire is 10 percent contained with approximately 150 firefighters working through the night. Two lanes are open on northbound Highway 101.
UPDATE 9 p.m.: The fires burning on the Cuesta Grade, dubbed the Cuesta Fire, have burned approximately 75 acres. Air attack is stopping for the night, though ground crews will continue to battle the blaze.
ORIGINAL: Two fires have burned about 40 acres off the Cuesta Grade near Santa Margarita. One structure is currently threatened.
Shortly after 6 p.m. on Sunday, three fires were reported off the east side of Highway 101 just south of Highway 58. Fire officials believe a Ford truck dragging a chain started the fires.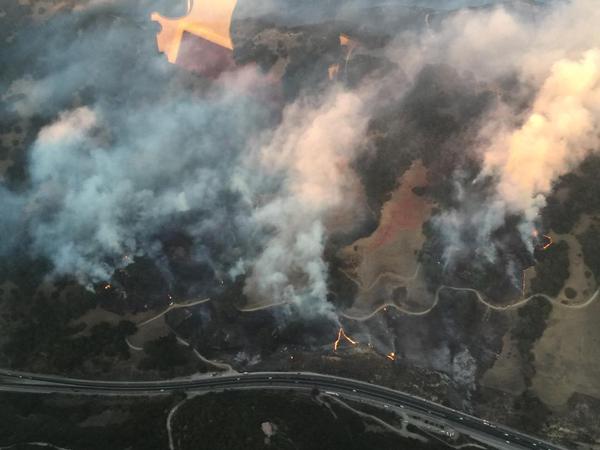 Two of the fires, the one furthest north and the center fire, have connected and are burning together, Cal Fire reported. Fire fighters are working to keep the fires west of Mt. Lowe Road.
Don't miss links to fire updates, like CCN on Facebook.
[fire]