Man killed in crash at Oceano Dunes
August 31, 2015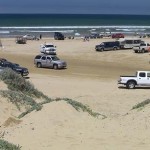 A 27-year-old man died and a second person was airlifted to the hospital following a crash at the Oceano Dunes Sunday afternoon. [KSBY]
The 27-year-old was driving a vehicle on the dunes around 4 p.m. when the vehicle rolled down one of the dunes ejecting both the driver and his passenger.
Emergency responders pronounced the driver dead at the scene. The passenger was airlifted to a nearby hospital.
The San Luis Obispo County Sheriff's Office is not yet releasing the identities of the victims.