Driver hits parked cars, cars hit Cayucos homes
September 28, 2015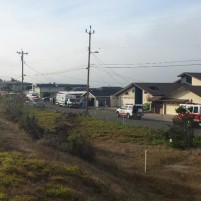 Two vehicles rolled into Cayucos homes Sunday morning after a San Luis Obispo man fell asleep at the wheel and crashed into five parked cars. [Tribune]
Robert Covey, 35, dozed off at 8:05 a.m. while traveling south on Highway 1, according to the California Highway Patrol. Covey drove his Ford Edge SUV off the west side of the highway, through a fence onto Studio Drive and then collided with five parked cars.
The collision pushed an SUV and a truck into the garages of separate houses.
Most of the parked cars sustained moderate to major damage. Covey's passenger suffered minor injuries, but no one else was injured during the accident.
Cayucos fire personnel, Cal Fire, San Luis Ambulance and the CHP responded to the crash. The ambulance did not transport anyone to the hospital.
Authorities have not released a dollar estimate of the damage.