SLO County Sheriff's K9 attacks officer
September 30, 2015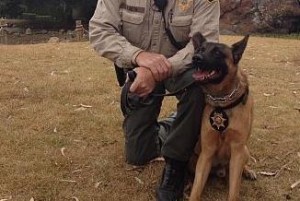 By JOSH FRIEDMAN and KAREN VELIE
A San Luis Obispo Sheriff's Department K9 tasked with catching a fleeing car thief in Arroyo Grande attacked a California Highway Patrol officer on Tuesday who, too, was pursuing the suspect. Officers then charged the suspect with resisting arrest resulting in serious bodily injury to a peace officer.
At about 7 p.m., the CHP officer noticed a man in a stolen vehicle parked near the corner of Branch and Garden streets in Arroyo Grande, according to the CHP. The suspect then fled the car and headed for the Arroyo Grande Creek bed with the officer in pursuit.
Arroyo Grande Police officers, sheriff deputies and sheriff's K9 "DJ" assisted in the search of the suspected car thief.
During the pursuit, the sheriff's K9 attacked the CHP officer biting him in the arm.
"The officer got a little too close to DJ as he was working the incident and bit him on the arm, resulting in a minor injury that just broke the skin," said Tony Cipolla, sheriff's department spokesman. "The officer was taken for treatment. No stitches, no broken bones."
Authorities eventually captured Michael Fordyce, who reportedly fell and injured his leg while fleeing.
Officers booked Fordyce into the San Luis Obispo County Jail on charges of resisting a peace officer resulting in death or serious bodily injury, auto theft and resisting arrest, according to the San Luis Obsipo County Sheriff's Office website. His bail is set at $25,000.
DJ will be off duty and under observation for the next two weeks.
"Our protocol is for the incident to be documented," Cipolla said. "At the same time, the K9 will be placed under an in-house quarantine for two weeks for observation to see if the K9 has any ill effects from the incident."
Like CCN on Facebook.