Hazardous chemical causes odor in Arroyo Grande
October 26, 2015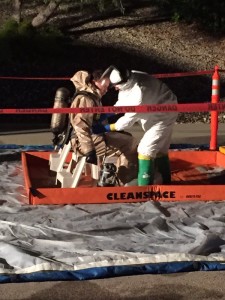 Firefighters and a regional hazmat team responded to an incident involving a hazardous chemical Sunday evening in Arroyo Grande that resulted in emergency crews asking neighbors to stay in their homes with the windows closed.
At about 7:30 p.m., firefighters responded to a report of a structure fire on Calle Carman. There was no fire, though, when firefighters arrived.
Five Cities Fire Chief Steve Lieberman said the hazmat problem appeared to come from a chemical that had been used to dye fabric inside the garage of a family's two story home. The fabric dye was reacting and smoking, the family told firefighters.
The incident caused a rotten egg-type smell to linger in the neighborhood. Residents in the area had to stay inside, shut their windows and leave their air conditioners and heaters turned off.
Emergency personnel worked to stabilize and transport an active chemical, according to the Five Cities Fire Authority. The incident was winding down late Sunday night, the Fire Authority tweeted.
The odor was beginning to dissipate Sunday night.