Truck spills human biosolid waste near Cambria
October 24, 2015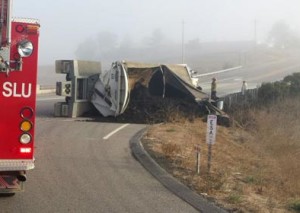 A tractor trailer loaded with 80,000 pounds of human biosolid waste tipped onto its side Friday on Highway 1 just south of Cambria spilling the waste onto the highway.
Shortly before 9 a.m., the driver, Sergio Mercado Lepe, 45, of Wasco, Calif., was attempting to turn from Highway 1 onto Highway 46 with a load of bio-solids from the Cambria Sewage Treatment Plant. Because of heavy fog, he almost missed the turnoff.
Lepe then made a sharp left which resulted in the truck tipping onto its side, according to the California Highway Patrol.
The driver was not injured in the accident.
Caltrans and Cal fire assisted in traffic control and cleanup. In less then three hours, the spill was removed and that portion of the highway was reopened.