Police dog bites officer during wedding brawl
October 18, 2015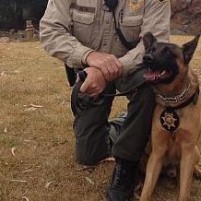 During a brawl at a Santa Barbara wedding on Saturday, a police K9 bit another officer. [KCOY]
Shortly after 8 p.m., a transient crashed a wedding reception at the Santa Barbara Carriage and Western Art Museum at 129 Castillo Street. After the transient refused to leave the party, guests called 911.
Before officers arrived, several of the guests were able to get the wedding crasher outside.
When officers confronted the suspect he punched one of the officers in the face and began fighting with another. During the brawl, a police canine bit one of the officers by mistake.
Officers arrested the suspect and booked him into the Santa Barbara County Jail for disturbing the peace and felony assault of a peace officer.
Late last month, a San Luis Obispo Sheriff's Department K9 tasked with catching a fleeing car thief in Arroyo Grande bit a California Highway Patrol officer who was also pursuing the suspect. Officers then charged the suspect with resisting arrest resulting in serious bodily injury to a peace officer.