Vehicle sparks another fire on Cuesta Grade
October 21, 2015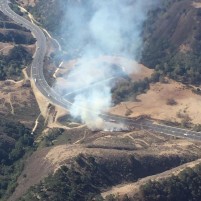 About five acres of the Cuesta Grade burned Tuesday morning after a car caught fire and the blaze spread to nearby vegetation.
The vehicle was traveling northbound on Highway 101 at Ryan's Gate at the bottom of the grade when the car fire began. The driver stopped on the shoulder of the highway, and the fire then spread, according to Cal Fire.
The fire broke out shortly after 10:30 a.m. Firefighters contained the blaze by around 11:30 a.m. No injuries were reported.
In mid-August, a truck pulling a trailer sparked the Cuesta Fire that burned at least 2,446 acres in and around Santa Margarita. Investigators say the truck caused sparks that, too, spread to nearby vegetation.
Earlier this month, San Luis Obispo County firefighters had to mop up hotspots from within the Cuesta Fire containment lines. Two plumes of smoke appeared on a hillside off Highway 58 outside Santa Margarita.