How California congressmen voted on Syrian refugee bill
November 20, 2015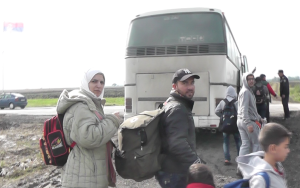 Eight House Democrats from California crossed party lines Thursday and voted for a bill that will make it difficult for the Obama Administration to carry out its plan to resettle refugees from Syria and Iraq in the United States. [LA Times]
The House of Representatives voted 289-137 in favor of a bill that would require the director of national intelligence, as well as the Homeland Security and FBI chiefs to certify that refugees who are admitted pose no security threat. The White House says the requirements are unnecessary and impractical and has vowed to veto the bill, but the legislation passed the House with a majority large enough to override a veto.
All 14 of the House Republicans from California voted for the bill. Thirty-one of the 39 House Democrats from California, including Rep. Lois Capps, voted against it.
The California Democrats who crossed party lines were: representatives Pete Aguilar (Redlands), Ami Bera (Elk Grove), Julia Brownley (Westlake Village), Jim Costa (Fresno), John Garamendi (Walnut Grove), Janice Hahn (Los Angeles), Scott Peters (San Diego) and Paul Ruiz (Palm Desert).
Some of the eight Democrats come from swing districts where the Syrian refugee issue could factor in next year's election. Several of the Democrats who crossed party lines said the bill offers beneficial security measures.
In all, 47 House Democrats voted for the bill. Only two Republican representatives voted against it.
The White House has proposed admitting at least 10,000 refugees from Syria next year.
Hillary Clinton, the Democratic presidential front-runner, denounced the bill, saying it discriminates against Muslims.