Sacramento attorney probing SLO County citizens
November 14, 2015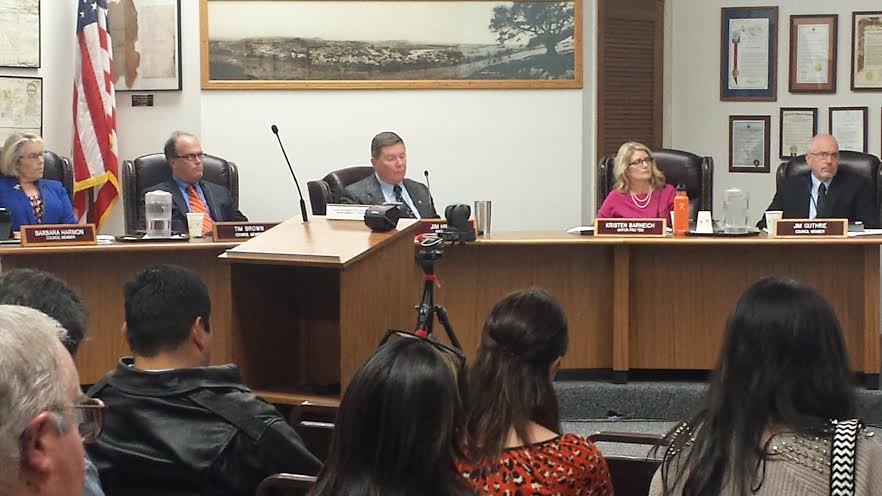 By JOSH FRIEDMAN
A Sacramento attorney is probing political opponents of developer Nick Tompkins, as well as allies of Arroyo Grande Mayor Jim Hill, prompting some to denounce the effort as a campaign to suppress public participation in local government. It is unclear who is funding the inquisition.
Last month, Tompkins won a battle for city approval of a mixed use development at Courtland Street and Grand Avenue in Arroyo Grande after the planning commission voted unanimously to deny the project as poposed. John Mack, a planning commissioner who is also a licensed architect and contractor, had argued for changes to the project because of density and parking concerns.
Tompkins and his supporters then attempted to remove Mack from the planning commission, claiming a conflict of interest. At the same time, Sacramento-based attorney Natalie Bocanegra submitted multiple public record requests for information about Mack and several other individuals who are critical of Tompkins and/or allies of Hill. Mack is Hill's appointee to the planning commission.
On Nov. 6, Bocanegra submitted seven record requests to the city of Arroyo Grande. Bocanegra wanted information regarding Mack, Lin Hill, the mayor's wife; Patty Welsh, Hill's former appointee to the parks and recreation commission; Aaron Henkel, Hill's appointee to the traffic commission; Beatrice Spencer, a local business owner; and Julie Tacker, a government watchdog.
Her requests pertaining to Mack, Hill, Welsh, Henkel and Spencer were for all communications with Arroyo Grande city officials and staff for varying periods of time. Bocanegra requested all of Mack's communications dating back to 2006.
Bocanegra also sent records requests to multiple agencies across the county including Arroyo Grande asking for all of Tacker's public records requests, dating back to Jan. 1, 2012, and the results of the requests. CalCoastNews obtained copies of the requests she sent to the city of Arroyo Grande and the South San Luis Obispo County Sanitation District.
Sources said that the Cambria Community Services District, Cayucos Sanitary District and Los Osos Community Services District also received record requests from Bocanegra regarding Tacker. Tacker participates in government meetings countywide.
In Arroyo Grande, Tacker delayed the approval of Tompkins' mixed use project by about one month after she reported a Brown Act violation which forced the city council to redo its hearing on the project.
Tacker also argued the council should have denied the project or reshaped it as the Planning Commission recommended.
Bocanegra did not respond when asked for comment about the record requests. She has not stated publicly why she submitted the requests.
Critics of Tacker have previously argued she wastes government time and taxpayer money by submitting a large number of record requests. However, the California Public Records Act allows citizens to submit requests, and Tacker has discovered misuses of public resources by doing so.
When asked for comment, Tacker questioned Bocanegra's use of taxpayer funds.
"It is a fishing expedition at the cost to the taxpayers," Tacker said. "By targeting volunteers and government watchdogs, they are putting a chill on public participation."
Hill also spoke critically over Bocanegra's flurry of requests.
"It looks like harassment, but they have every right to request public records," Hill said.
Each of the record requests obtained by CalCoastNews were submitted by Bocanegra. Tompkins did not respond, either, to requests for comment.
Mack previously said supporters of Tompkins were trying to have him removed from the planning commission before the developer has another project come before the body.
"They are trying to conspire against me to help push Nick's projects forward," Mack said.
After the Arroyo Grande City Council approved his project, Tompkins filed several complaints against Mack with the California Fair Political Practices Commission. The FPPC then rejected the complaints, clearing Mack of any conflict of interest.
Get local news first, like CCN on Facebook.