Suspects hide out in Santa Barbara restaurant bathroom
November 28, 2015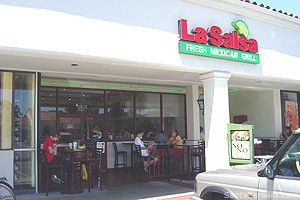 A pair of suspected car thieves led police on a chase before fleeing the vehicle and barricading themselves in men's bathroom at the La Salsa Fresh Mexican Grill on State Street in Santa Barbara.
At about 8:30 a.m., an officer noticed a car run a red light and pulled the vehicle over. Shortly afterwards, the vehicle sped away leading officers on a chase that ended when Christopher Hernandez, 20, and Ana Chavez, 20, abandoned the car and fled towards the Five Points Shopping Center.
The manager of the La Salsa Fresh Mexican Grill later informed officers the couple had locked themselves inside the men's restroom. Officers were able to talk Chavez and Hernandez into surrendering.
Inside the toilet, officers discovered drugs the suspects were attempting to flush.
Officers then arrested the couple and booked them into the Santa Barbara County Jail. Both Hernandez and Chavez face multiple charges including obstructing or delaying an officer and drug possession.
Get links to local news stories, like CCN on Facebook.