17 wounded, 14 killed in San Bernardino shooting
December 2, 2015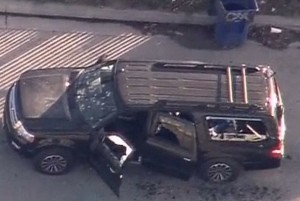 UPDATE: Two suspects in the San Bernardino shooting, a man and a woman, were killed in a gun fight with police officers after a car chase Wednesday. The male suspect has been identified as Syed Farook, a San Bernardino County environmental health specialist who left the party about 20 minutes before the shooting occur.
A third suspect has been taken into custody.
ORIGINAL: A manhunt is under way for one of three suspects who killed 14 people and wounded 17 others during a shooting Wednesday at a facility hosting at a holiday party for a San Bernardino social services agency. One suspect is dead, another is wounded and the third is on the run. [New York Times]
Around 11 a.m., three gunmen pulled up in a sport utility vehicle at a service center for people with disabilities, spent "several minutes" shooting inside a conference room, and then fled, said Chief Jarrod Burguan of the San Bernardino police. It is suspected the suspects worn masks and body armor.
Burguan said the motive for the assault is currently unknown.
The suspects targeted a conference room in the campus of the Inland Regional Center where a holiday party was being held for San Bernardino County Health Department personnel.