Suspicious fires break out in Oceano
December 7, 2015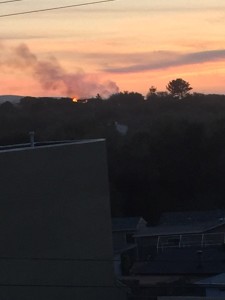 At least three fires broke out in Oceano Sunday, according to the Five Cities Fire Authority. Officials have deemed the fires suspicious, and law enforcement in investigating.
First, crews responded to multiple fires at or near a transient camp. The blazes burned up to a half acre, fire officials stated in a tweet.
Later, firefighters extinguished a blaze near Pier Avenue. That fire had a 20-foot diameter.
KSBY reports there were three fires reported at 4:43 p.m. Those fires occurred in remote areas near Silver Spur Place.
The fire off Pier Avenue broke out around 6 p.m. Fire officials say a pile of trees were burned at the location, and they could have been piled up by the California Conservation Corps.
Five Cities Fire Chief Steve Lieberman says there is indication that all four fires could be related. State parks is conducting an investigation.