AG mayor's state of the city address
February 2, 2016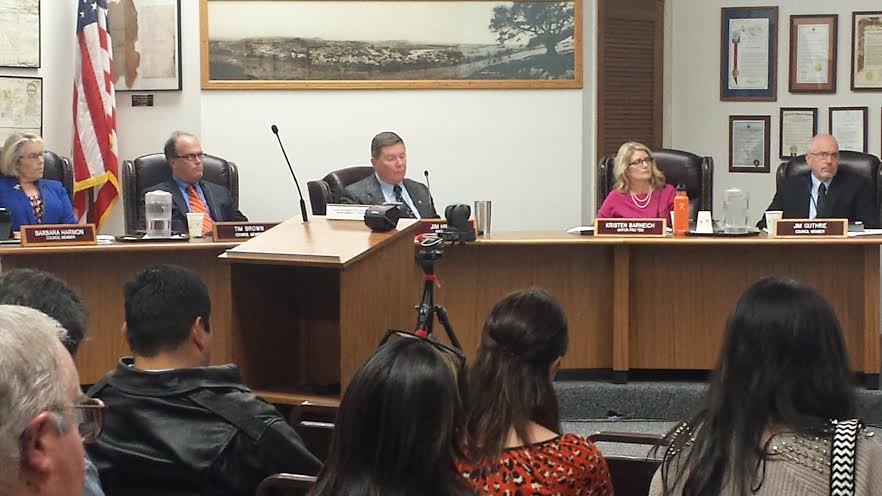 OPINION by MAYOR JIM HILL
I'm often asked, "What's it like being Mayor?" or "What are some of the things you're involved with as Mayor?" and "How do you like the job?" It's challenging and interesting and sometimes a lot of fun, there's a lot of reading and I really do like being mayor. It has been an eventful year.
As the city representative on the South San Luis Obispo County Sanitation District Board, delivery of the report from former IRS investigator Carl Knudsen, which details conflicts of interest and alleged corruption by former District Administrator/Engineer John Wallace, provides new information and additional details about this issue which I first raised several years ago. The Knudsen report shows Wallace, whose own employees represented themselves as sanitation district staff, withheld discharge permits while offering to re-engineer the applicant facilities for unreasonably high fees.
The report confirms a prior San Luis Obispo County Grand Jury report which was denigrated by former Mayor Tony Ferrara and council members including Caren Ray.
It also begs the question whether litigation brought by SSLOCSD against the Regional Water Quality Control Board in response to the fine issued for the huge 2010 sewage overflow was justified. The litigation has resulted in hundreds of thousands of dollars paid to Wallace and various attorneys including former sanitation district counsel Mike Seitz to support the district's case.
The sanitation district board has voted unanimously to refer the Knudsen report for criminal investigation by the SLO County District Attorney, the State Attorney General, and the FBI.
It is important to note that the current operation of the sanitation district plant by Superintendent and acting District Manager John Clemons and his staff has been exemplary. Mr. Clemons and the operating staff at the plant have improved plant operation, environmental compliance and transparency while reducing costs and saving money for ratepayers.
It was noted at the last Board meeting that the current staff of eight (normally 10) is operating the plant far better than Mr. Wallace did when he had over 20 of his own employees involved in addition to the actual plant staff. We are also making progress getting a backup for the last stage plant treatment process, which will provide the ability to meet tighter discharge requirements already announced going forward.
We all owe the operating staff our thanks for an ongoing job well done!
At the city, most of our efforts are on track, but there is always work to do. I've been able to meet and observe our city staff as they go about providing the basic services that are so important to our quality of life in Arroyo Grande.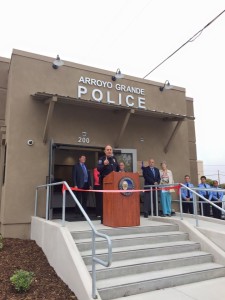 This has included riding along with our police officers as they patrol our streets and neighborhoods providing for the safety of our lives and property. I have seen the caring and respect they routinely demonstrate which is a hallmark of the professionalism they bring to the job every day.
The AG Public Works Department, together with our business and administrative staff, has helped provide for respectful, fair and equitable resolution of concerns with our water use restrictions, which we will need to continue until the state-declared emergency is ended.  Beyond that, they have brought us conservation habits and techniques we must continue to use going forward to assure our water resources remain adequate.
Even when the current drought ends, others will inevitably follow. Conserving from full lake levels will go farther than waiting until much of that reserve has been depleted.
Arroyo Grande has small, medium and large projects to complete – Elm Street Dog Park turf, Bridge Street bridge rehabilitation, and the Brisco interchange improvements are examples of each.
I believe in some cases we have lessons to be learned and process improvements that need to be made. In my opinion, the over $2 million dollars spent by the prior administration on Brisco designs that were technically unfeasible wasted taxpayer money, and the continued development of an economically unfeasible ramp "option" is also wasteful of resources and time. Meaningful public input should have been sought at a much earlier stage of the process.
I think it's time to focus on the success of the current temporary ramp closure, extend it going forward, and commit to the needed Camino Mercado and Grand Ave improvements (Option 1).  I believe we should abandon the functionally unnecessary but economically and environmentally costly roundabout ramps (Option 4C) before any more resources are expended on them. Recently announced state transportation fund cuts emphasize the timeliness and importance of this position.
Arroyo grande has well over $10 million of obligation to pay for PERS funding accumulated over prior years (previously carried off the books as an "unfunded liability").  We must be very careful of our resources and we simply cannot afford the roundabout ramp option.
The Elm Street dog park was one example of many local agency relationships in the past being implemented by inadequate written, or even verbal agreements. These relationships ranged from administration of the dog park to collection of wastewater processing fees to apportionment of responsibility for the 5 Cities Fire Authority.  We must insist in the future that any interagency relationships be fully and properly documented.
In the case of the Elm Street dog park, the prior volunteer caretakers received substantial donations for an artificial turf project but were unfortunately quite short of the amount necessary to properly complete the project. The AG City Council has set aside enough funds so that, combined with the donations previously collected, the project could be fully implemented.
Without documented designation for the donated funds, it is at the discretion of the prior caretaker organization whether the funds previously collected will be brought forward so this long awaited project can be completed. I hope they will do so to truly benefit our canine residents and friends.
An issue of major concern to me is the perception by many residents that there has previously been inconsistent treatment of applicants in respect to development issues and inconsistent enforcement of city regulations. I believe that in order to change these perceptions, they first need to be acknowledged.
Our commitments to ensure fair and equitable application and enforcement for all must be redoubled.
Some of our plans and regulations, such as parking requirements, need to be reviewed for adequacy and obsolescence. I am personally committed to having reasonable and consistent regulations and that those regulations be fairly, equitably and consistently applied.
Meanwhile, the positive things about the job are too numerous to itemize. Foremost is the dedication of city staff and the volunteers in so many endeavors that make the city such a great place.
From the 5 Cities Men's Club Paulding wall rebuild to the Parks and Recreation Department's delightful father-daughter dance and everything in between, Arroyo Grande is great because of their efforts.   Completion of the police station renovation has provided a state of the art facility; the new public works office is complete and operational, the Women's Club facility is being renovated, street repairs such as the recently completed resurfacing and new bike lanes on Fair Oaks are continuing, as are water system upgrades including reservoir tank renovations recently completed by staff at considerable cost savings. Access upgrades to the council chambers are about to commence. Related projects including recently completed street light replacement by PG&E will cut our energy use and upcoming gas main replacement by Southern California Gas will improve safety and reliability.
Throughout all, it is a privilege to represent you as your Mayor.
Jim Hill was a write-in-candidate who won the mayor's seat in the 2014 election.