Lacey Fowler let out of jail after most charges dropped
February 2, 2016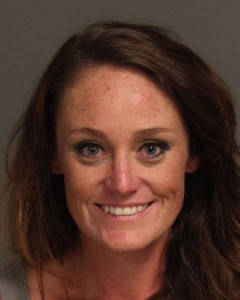 A San Luis Obispo judge sentenced former Cuesta College employee Lacey Fowler last week to nearly a year in jail, yet Fowler is already out of custody, according to county sheriff's office records. Prosecutors dropped the majority of the charges against Fowler and simultaneously pursued a stiffer sentence for her husband, who was accused of lesser offenses.
Fowler, who is the daughter of a retired law enforcement officer, worked as a human resources analyst at Cuesta College. She has an extensive criminal history that predates her hiring at Cuesta.
Recently, Fowler faced numerous charges following an alleged crime spree in which she was arrested four times in a period of six weeks. The criminal conduct began on May 31, when Fowler breached the Cuesta College data system remotely and stole personal identification information of current and former employees.
Fowler accessed employee names, home addresses, email addresses, phone numbers and Social Security numbers. She then opened credit card accounts in the names of several of the victims, according to the San Luis Obispo County District Attorney's Office.
A district attorney's office press release stated it appears no victims lost any money directly, but Fowler damaged their credit histories.
In the six weeks following the data theft, Fowler skipped court, was arrested four times and allegedly tried to punch a Paso Robles police officer. Other charges she racked up included battering her husband, burglarizing a commercial vehicle, passing a bad check and possessing cocaine and methamphetamine for sale.
On Jan. 4, Fowler pleaded no contest to felony identity theft, according to the DA's office. The DA's news release made no mention of the terms of the plea deal.
Court records state Fowler was also convicted of second-degree burglary. Prosecutors dropped all other charges, including possession of controlled substances, being under the influence of a controlled substance, passing a bad check and battery against a spouse.
On Jan. 27, Judge Donald Umhofer sentenced Fowler to 350 days in jail and four years of probation. The sentence also mandates that Fowler participate in a residential drug treatment program.
Fowler had been in custody since her most recent arrest on July 13. Inmates get credit for time served and often only have to serve about half of their sentences.
Last June, narcotics detectives arrested Fowler's husband, Chad Fowler. They made the arrest after officers found drugs at the Fowlers' residence while investigating the data breach.
Chad Fowler was initially charged with possession of heroin and methamphetamine for sale. He was also charged with an enhancement for possessing more than one kilo of meth.
Recently, Chad Fowler pleaded no contest to possession of methamphetamine for sale with a "weight enhancement," according to the DA's office. On March 30, he will received a five-year prison sentence to be served in county jail.