CHP chases unicorn through Central Valley
February 26, 2016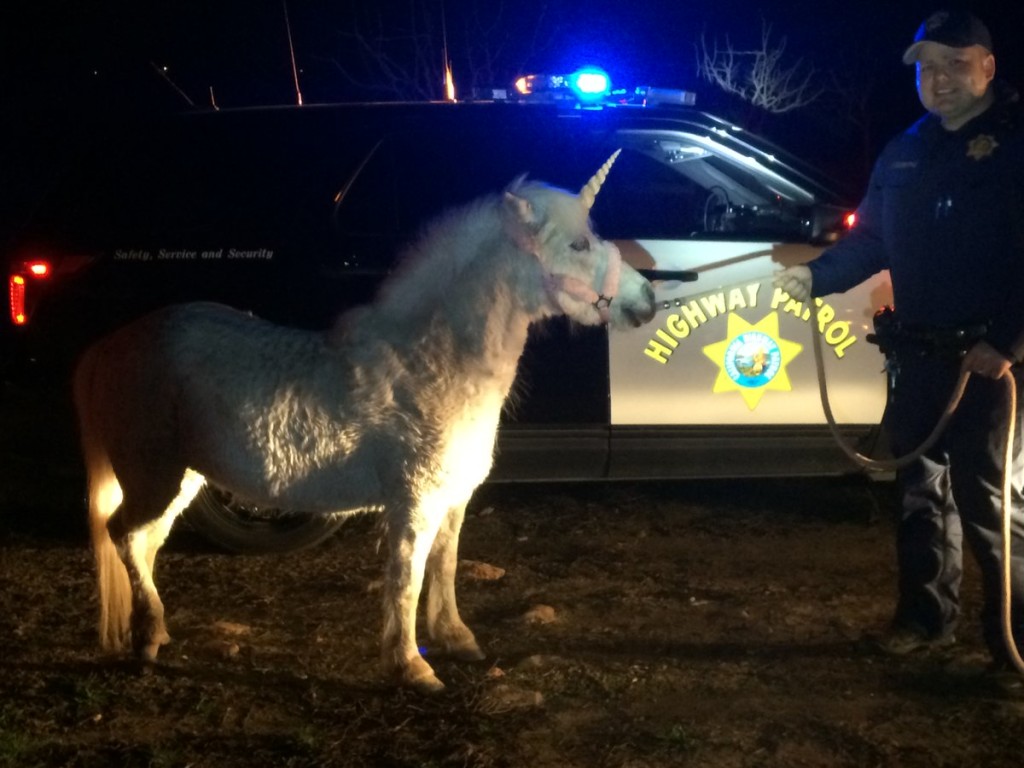 California Highway Patrol officers chased a white pony masquerading as a unicorn for several hours Wednesday in the Central Valley. The pony darted in and out of traffic and hid from officers, who ultimately needed the help of a helicopter with a heat seeking radar to track down the white horse. [KTVU]
The pony was outfitted with a single horn and pink bridle for a child's birthday party in Madera. Around 2:30 p.m., it darted away from a child. It was recaptured shortly later, though.
Around 5:30 p.m., the pony escaped again. It then ran onto roadways and was seen running in and out of traffic on Avenue 12 between Road 33 and Road 35.
Some motorist were quite sure they had seen a unicorn, according to the CHP. Others were hesitant to report the horse as a unicorn.
After nightfall, the pony hid from officers. The CHP finally located the animal using a helicopter with a heat seeking FLIR radar.
A nearby resident then used her horse to help officers approach and capture the pony.
Officers returned the pony to its owner unharmed. Authorities did not issue any citations.
Madera CHP PIO Joshua McConnell said it would have been a different story had the pony been hit by a car.
"The business or owner providing the pony would have been financially liable for all injuries, property damages and other costs, which would have been significant," McConnell said.
Animals running onto roadways cause a significant number of traffic accidents. Had the pony been hit by a car, the driver, passengers and pony could have been seriously injured or killed, McConnell said.
The frisky pony was between 500 and 600 pounds.