Paso Robles residents displaced by apartment fire
February 8, 2016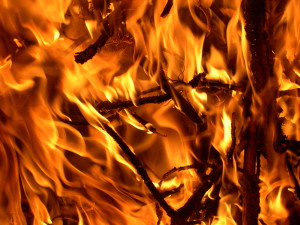 Improperly discarded smoking materials caused a fire in Paso Robles Saturday that displaced the residents of eight apartment units, according to the city's department of emergency services.
Around 2:22 p.m., Paso Robles firefighters responded to a blaze at an eight-unit apartment building located at 1279 Stoney Creek Drive. The first fire engine arrived at the scene within about eight minutes. Firefighters found heavy fire and smoke in the attic of the apartment building.
Investigators say smoking materials caused the exterior side of an outside balcony to ignite. The fire then traveled up the wall and into the eaves, eventually spreading through the attic.
A woman and her child were unaware of the blaze until three good Samaritans broke in and evacuated the apartment. No one suffered any injuries as a result of the fire.
Twenty firefighters were needed to bring the fire under control, according to the Paso Robles Emergency Services Department. Paso Robles, Cal Fire, Templeton and Atascadero firefighters battled the blaze.
Paso Robles police, San Luis Ambulance and the American Red Cross also responded. The Red Cross is assisting those displaced by the fire.
The fire caused substantial roof damage and significantly impacted two upstairs apartments. Residents of other units could not return to their apartments due to utility safety concerns.
Investigators have yet to provide an estimate of the monetary loss.