Easter fire burns Morro Bay homes and cars
March 28, 2016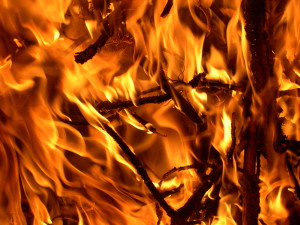 A Morro Bay duplex and three vehicles burned after barbecued coals ignited a garbage can on Easter Sunday. The fire also damaged a nearby home, downed power lines and ruptured a gas line.
The coals were doused with water on Saturday night and then placed in the garbage can Sunday morning, according to the Morro Bay Fire Department. The fire started in the afternoon at a carport where the three vehicles were parked.
Both units of the duplex sustained significant damage and are not livable, a fire department press release states. The neighboring home, which is located south of the duplex, sustained exterior damage but is livable.
The downed power lines fell on top of a fire engine. PG&E and Southern California Gas Co. workers repaired the power lines and the ruptured gas line.
Cal Fire, the Cayucos Fire Department and the San Luis Obispo Fire Department also responded to the blaze. No one suffered injuries as a result of the fire.
The Morro Bay Fire Department reminds residents to ensure that coals or any other hot item is completely cold before it is thrown away. Fire officials recommend stirring coals and placing a hand over the area to feel for heat prior to disposing them.