Five Cities team wins Western States Championship
March 23, 2016
The Five Cities under 10 boys AYSO All Stars soccer team had a historical win at the 2016 AYSO Western States Championships in Bullhead City, Arizona on Sunday. For the first time, a Five Cities team has won the Western States Championships.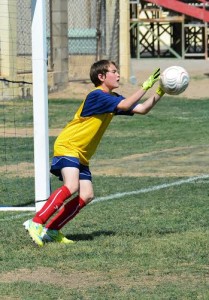 Near the end of February, the Five Cities team won the area tournament battling teams from Paso Robles to Santa Ynez. Two weeks later, the team captured the win at a regional tournament in Bakersfield.
At the final championship tournament last weekend, teams from California, Oregon, Washington, Arizona and Nevada represented more than 400,000 youth soccer players.
In a semi-final game against San Gabriel/Rosemead, with only two minutes left in the game, the Five Cities team tied the game with a dramatic goal.
After two overtime periods, the teams remained tied.The Five Cities team then won 3-2 in penalty kicks.
In the final championship game, in 95 degree heat, Five Cities was pitted against South Gate.  Five Cities won the final game of the championship 1-0.