Cal Poly students again angered by plan to develop farmland
May 16, 2016
For the second time in the span of a year, Cal Poly agriculture students are protesting a university plan to develop farmland. The new proposal targets land where cattle graze, and it has angered dairy science students.
Last June, a student initiative succeeded in getting the university to drop a plan to develop 43 acres of farmland that agriculture students use as classrooms. As part of Cal Poly's master plan update, university officials considered building housing, hotels and a convention center on the farmland. The land consists of lemon and orange groves, grapevines, a deciduous orchard and silage for Cal Poly livestock.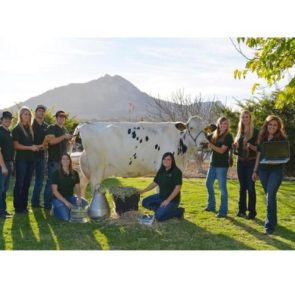 The university's latest version of the master plan update proposes building sports fields, a parking structure and other facilities on land currently used for dairy farming.
In response, more than 1,600 individuals have signed an online petition calling on Cal Poly to scrap the development plans. The petition, which currently has 1,654 signatures, states the farmland is essential for a dairy Cal Poly students operate because it is where heifers graze, wastewater is disposed and students grow crops for the cattle.
Several faculty members also use the fields for research, and forage classes and fertilizer labs. Additionally, the rodeo and tractor pull events at Cal Poly's open house take place on fields the university plans to develop.
The farmland Cal Poly plans to transform into a parking structure and sports fields is located on the east side of Mount Bishop Road. Grazing land northwest of that location is slated to be developed into a corporate yard and/or a business hub, data center and rose float storage facility.
Supporters of Cal Poly's dairy science program say, if the land is developed, there are few, if any, other places on campus where cattle can be placed. Dairy science proponents also say the university is abandoning its "Learn by Doing" motto.
Last year, agriculture students launched a website and a petition opposing the plan to build housing, hotels and a convention center on farmland. Faculty members also voiced displeasure with the proposal. Cal Poly officials decided to scrap the development shortly following a 78-21 vote of no-confidence in Andrew Thulin, the dean of the College of Agriculture.