Mortar round sparked Camp Roberts fire
May 20, 2016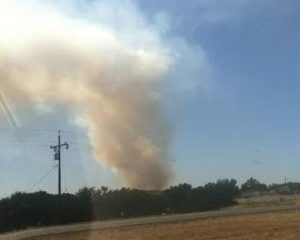 A 60 millimeter mortar illumination round sparked the Camp Roberts fire that has burned 3,800 acres. Military personnel fire mortar illumination rounds in order to light up a battlefield.
At about 2:30 p.m. on Wednesday, the mortar illumination round was fired into an impact area at the National Guard post, Lt. Col. Kevin Bender, the deputy commander of Camp Roberts, said. The illumination round ignited the ground in the impact area. The blaze then moved quickly and jumped a fire break, Bender said.
Winds picked up the fire and caused it to grow quickly in an area of dry grass and woodlands.
As of Friday morning, the fire was 90 percent contained at 3,800 acres.
Burned grass and oak woodland caused heavy smoke to pour into the sky Wednesday night. It was still smoky in Paso Robles Thursday evening.
No structures have been damaged, and no one has suffered injuries as a result of the blaze, according to Cal Fire.