SLO County golf course running a $500,000 deficit
May 18, 2016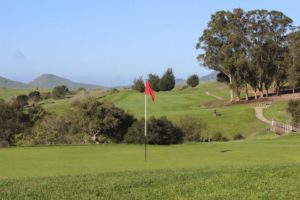 The recent drought coupled with state prison realignment is causing the Dairy Creek Golf Course at El Chorro Regional Park to turn brown. But, the San Luis Obispo County Board of Supervisors is planning on injecting cash into the course operation to satisfy golfers. [Tribune]
Dairy Creek, which is located on Highway 1 across the street from Cuesta College, relies on recycled water from the nearby California Men's Colony. As a result of prison realignment, the inmate population at the Men's Colony has decreased from 7,000 to 4,000.
With fewer inmates housed at the prison, Dairy Creek is currently operating with 45 percent of the water needed to provide desirable conditions for golfers. The course has an annual shortfall of 142 acre-feet of water, and golfers are complaining about the grass turning brown.
The Dairy Creek budget currently contains a deficit of more than $500,000. Golf rounds have decreased by 29 percent and revenue has fallen by 39 percent.
On Tuesday, the board of supervisors directed county parks staff to explore ways to continue operating the course. The supervisors said they are willing to invest as much as $485,000 from the county general fund to keep the course open.
Supervisor Bruce Gibson said golf teaches a set of values and offers an athletic opportunity.
County officials are considering installing a water storage pond, which would would cost about $1.2 million. The course already has three ponds which are used to store rainwater.
Officials are also considering purchasing as much as 100 acre-feet of water from Whale Rock Reservoir .
The county owns a total of three golf courses. The other two are Morro Bay Golf Course and Chalk Mountain Golf Course in Atascadero. The three courses have a combined annual operating cost of $2.7 million.