Fire burns 1,200 acres near Gaviota, videos
June 16, 2016
A fire has burned about 1,200 acres in Santa Barbara County canyons near the Gaviota coast. Overnight, the blaze was threatening homes and an Exxon Mobil refinery.
About 3:21 p.m., the blaze, which authorities call the Sherpa Fire, broke out off Refugio Road near the Sherpa Ranch, according to the United States Forest Service. The fire has been burning in steep and rugged terrain and wind has been driving it toward the ocean.
Authorities issued mandatory evacuations orders for El Capitan Canyon, El Capitan Ranch, El Capitan State Beach, Refugio State Beach, Refugio Canyon, Venadito Canyon and Las Flores Canyon. If you are in any of these areas, you should leave immediately.
The Exxon Mobil refinery is located in Las Flores Canyon.
Exxon Mobil officials said Wednesday that they evacuated non-essential personnel from the Las Flores Canyon facility. Employees involved in fire protection activities remained on site.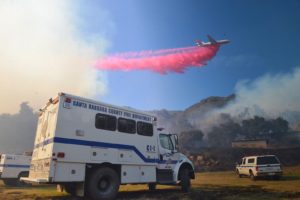 In addition to ordering evacuations, authorities closed Highway 101 in both directions from Winchester Canyon Road in Goleta to Highway 246 in Buellton. Caltrans announced Thursday morning that Highway 101 had reopened.
Emergency workers have set up evacuation centers in Goleta at 300 N. Turnpike Road and at Santa Ynez Union High School. An evacuation center for animals has been opened at the Earl Warren Showgrounds in Santa Barbara.
A total of 250 firefighting personnel has responded to the Sherpa Fire. Numerous aircrafts have been attacking the blaze from the sky. The aircrafts include eight air tankers, three heavy helitankers, three medium helicopters, a lead plane and two DC10s.
#SchirpaIncident burns in Las Flores Canyon Wednesday night. pic.twitter.com/0SnktVEYH1

— SBCFireInfo (@EliasonMike) June 16, 2016
#LaSherpaIncident -A DC-10 makes a phoschek drop on the fire. pic.twitter.com/brHnfBUjhk

— SBCFireInfo (@EliasonMike) June 16, 2016
#LaSherpaIncident SBC Firefighter knocking down flames while protecting structure. pic.twitter.com/W7JG8XaEKe

— SBCFireInfo (@EliasonMike) June 16, 2016