SLO High School principal censors student film, video
June 8, 2016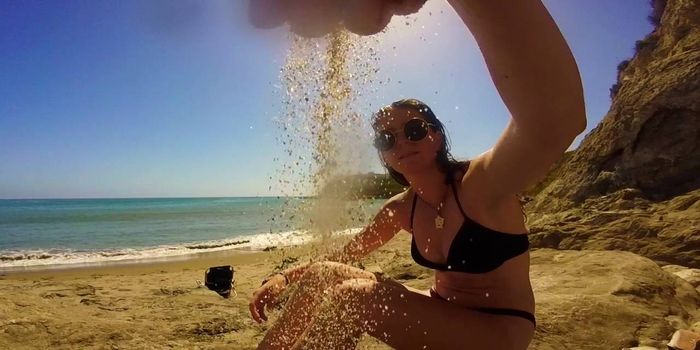 OPINION by LAURA ALBERS
San Luis Obispo High School Principal Leslie O'Connor refuses to allow a film to be shown, despite over 400 signatures on a petition and over 2,250 views of the film on YouTube.
Every year, SLOHS graduating seniors have an opportunity to showcase their talents at the annual Senior Showcase, held at the PAC. Interspersed with announcements of academic achievements and scholarship awards, seniors play music, perform skits and dances, and otherwise leave the audience with a taste for their talents. The Senior Showcase, this year held on June 9 at 6 p.m., is open to everyone in the community.
This year, SLOHS Principal Leslie O'Connor decided to put his own design on the event by censoring one of the student's submissions. CeCe Devaney, a high-achieving academic student who also managed to sweep both this year's Black & Gold Track & Field Award and the 2016 Female Athlete of the Year award, submitted a raw and beautiful film about her experiences in high school.
Principal O'Connor told CeCe that he wouldn't allow it in the showcase because it was "too provocative." Fellow senior Summer Truschke started a petition requesting that CeCe's film be included in the Showcase.
.

The petition, now closed with over 400 signatures – including some SLOHS teachers and staff –  was delivered to O'Connor's office on Monday, June 6, requesting a response within 24 hours. At this time, O'Connor has not responded.
CeCe's film artistically and poetically describes a high school experience that is easily relatable, while leaving the viewer with an uplifting message of the powers of choice and hope.
Guesses at what is "provocative" in the eyes of SLOHS administrators are numerous, including their reaction to a mention of loving both boys and girls.One SLOHS teacher wondered if O'Connor's reaction to the film is in response to the mental health issues students face, and the school's inability to effectively help students with mental health challenges.
Earlier this year, a SLOHS student committed suicide. The unnamed teacher wonders if O'Connor is trying to detract attention from the truth that teenagers – even those at his school – have problems that need to be dealt with.