Atascadero man narrowly avoids nosedive off Highway 101
July 15, 2016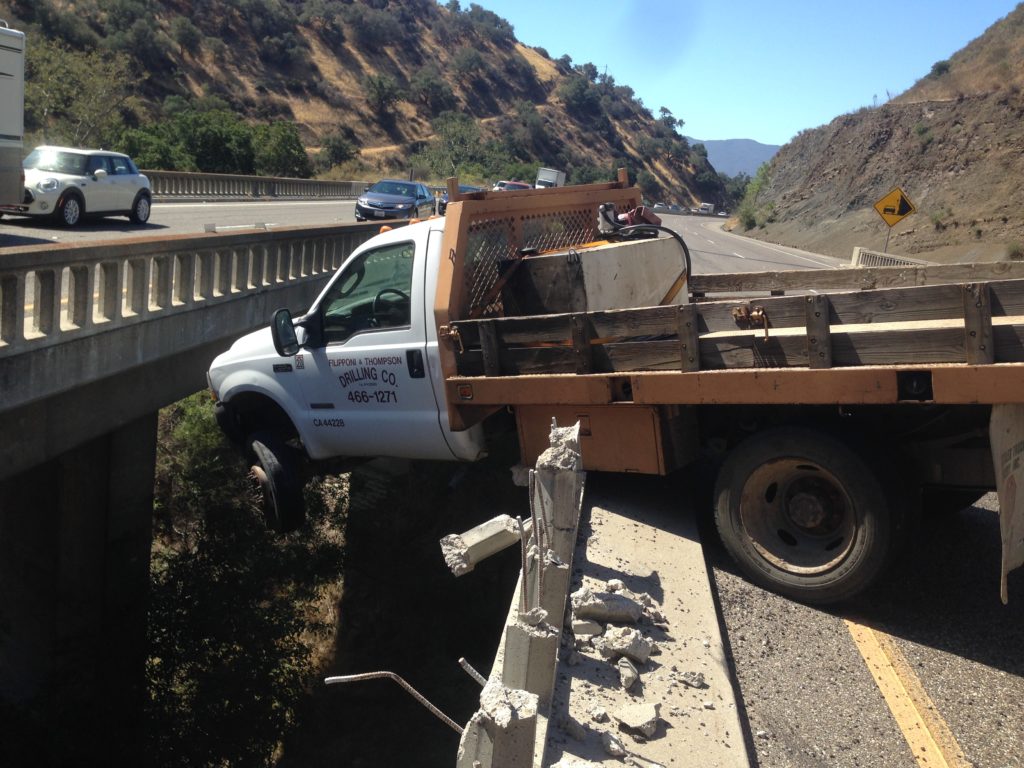 A 32-year-old Atascadero man and cancer survivor narrowly avoided plunging off a bridge after he crashed his truck on Highway 101 in Santa Barbara County Thursday morning. Authorities say there is about a 50-foot drop off the bridge. [KEYT]
Around 9:30 a.m., Nicholas Sampson was driving southbound on Highway 101 in the Three Bridges area near Buellton when one of the tires on his 2004 Ford F450 pickup blew out, according to the CHP.
The blown tire caused Sampson to lose control of his truck. He then and crashed into and through a concrete guardrail. His pickup then came to halt dangling over the side of the bridge.
Sampson's truck was towing a trailer at the time. The trailer came to a rest on the highway, where it blocked both southbound lanes. Santa Barbara County Fire Capt. Lonny Maniscalco said the weight of the trailer may have kept the truck from falling off the bridge.
The Atascadero man escaped out of the passenger window of the pickup. He did not suffer any injuries. Sampson was wearing a seatbelt at the time of the crash.
Following the collision, authorities closed southbound Highway 101 in the area for about three hours. Caltrans crews responded to the scene and began work on repairing the guardrail.
Sampson beat cancer at the age of 12.