Bond rating for Los Osos is suspended
August 21, 2016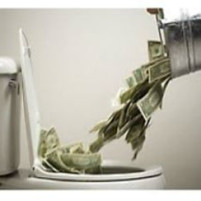 By KAREN VELIE
The financial bad news for the Los Osos Community Services District continues; earlier this summer the Standard & Poor's suspended its rating for district bonds.
The credit rating service said it could not continue to rate the district's fiscal integrity because a promised outside audit of the 2014-2015 books was not submitted on time. While the rating is suspended, the district is unable to get approvals for grants and low income loans for future infrastructure project associated with the community's seawater intrusion issues.
While the suspension occurred on June 21, the district board was not informed until activist Julie Tacker brought it to their attention several weeks ago. Nevertheless, before it was suspended the district had already been saddled with a poor rating.
Back in Dec. 2014, Standard & Poor's lowered its rating for the district to BBB- due to the district's financial reporting failures. Because of the district's lower ratings, it is required to pay higher interest rates on bonds.
"This action follows repeated attempts by Standard & Poor's to obtain timely information of satisfactory quality to maintain our rating on the securities in accordance with our applicable criteria and policies," said Standard & Poor's credit analyst Misty Newland in 2014.
The recent suspension is another indication of widespread accounting failures that have plagued the district for the past few years.
Earlier this year, the Internal Revenue Service, Employment Development Department and the Social Security Administration sent the district delinquency notices for misreporting staff salaries and wages. The district owes fines and interest for under-reporting almost $100,000 in wages during the past two years.
Last year, CalCoastNews analyzed former General Manager Kathy Kivley's personal payroll and found that she had overcompensated herself by approximately $6,000 during her two-year term. Following a district funded two-month investigation into the financial irregularities, Kivley retired in January.
In February, the district hired Peter Kampa to serve as its interim general manager. In April, Kampa said he refused to provide financial statements until the reports were "grounded in fact."